Many homeowners looking to trim the budget on their bathroom remodel might consider leaving the pre-existing tile floor, but this may be more trouble than it's worth. Today we will explore the problems that often arise when homeowners try to stick with their older tile flooring when they update the rest of the bathroom.
Old Grout
Grout can be a big issue, especially in older bathrooms. Dirt and grime can cling to grout, and it can slowly break down and loosen the tiles. By skipping out on a flooring update, you might have to redo the floor down the line, when the old grout becomes more of a problem.
Weakened Mortar
Much like grout, the mortar holding the tiles to the floor can deteriorate over time. Whereas grout can be cleaned or even replaced, the mortar under a tile cannot be reached without taking the tiles off. As time goes on tiles can loosen, and even come off completely. Water can get under these tiles, and can cause further damage to the floor below.
No Clashing
Many homeowners try to really update and change the look of the bathroom when they remodel it. By sticking with your old tile flooring, you limit the possibilities of your new design to fit the previous color scheme. One of the major reasons homeowners remodel a bathroom is because they are bored with it. By limiting your choices on the renovation, you are more likely to tire of the new design, in less time.
To discuss bathroom or kitchen remodeling options that would be best for your home please contact us at (718) 273-6233 or visit our showroom at 711 Port Richmond Ave., Staten Island, NY 10302.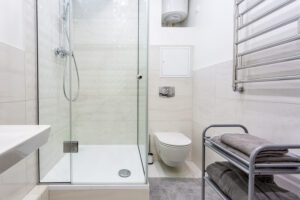 Wall-mounted toilets are growing in popularity for their sleek and sturdy, modernist style. While these stylish commodes can cost a bit more than your average potty to install, there are clear advantages and disadvantages here. To figure out if a wall-mounted toilet is right for your next remodel, we will explore the pros and cons of them.
Mounting
A wall-mounted toilet requires the tank to be built into the wall, and is installed in between wall studs for support. This can be difficult to place in some bathrooms, simply because of the placement of the studs. This can mean a more costly installation than a run-of-the-mill model.
Height is adjustable upon installation. Wall mounted toilets can be a good solution for taller residents, as you can determine the amount of space between the toilet and the floor below. Most municipalities allow between 15 and 19 inches of space between the floor and the bowl.
Space Saver
Wall-mounted models are usually more compact than a floor-mounted toilet. By installing the tank into the wall, you can save an average of 10 inches in front of it. This can be vital to keeping smaller bathrooms up to building codes.
Costly Install
Compared to a more traditional toilet install, a wall mounted toilet can be a decent amount more. Opening the wall is required for this, so it is better off to do this if you intend to change the whole design of the walls. Additionally, it can be difficult to match pre-existing tiles to fill in the space on the floor once occupied by a traditional toilet, so it is often a good idea to just replace it.
Cleaning
Wall-mounted toilets hover over the ground, and are generally sleeker than a traditional bowl. This helps make cleaning and bathroom upkeep easier. No more trying to get the mop in the space below the tank.
High-Efficiency
While most wall-mounted units are installed with a panel to access the plumbing in the event of a plumbing issue; most of these models are designed for high-efficiency. Many have strong, low-water flushes, to maximize efficiency. Some models will also have dual-flush systems.
To discuss bathroom or kitchen remodeling options that would be best for your home please contact us at (718) 273-6233 or visit our showroom at 711 Port Richmond Ave., Staten Island, NY 10302.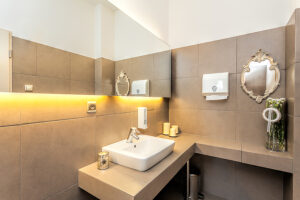 The kitchen and bathroom are often the first rooms in the home to be updated for an upcoming sale. But it is important to invest into the parts of the room that matter to potential buyers. The three selling points to a newly renovated bathroom are low maintenance surfaces, brightness, and energy efficiency.
Low Maintenance Surfaces
Materials and finishes that reduce cleaning and care can be a huge selling point for potential buyers. Marble can be a lavish upgrade, but it's general upkeep can make it less desirable for those looking to buy your home. Quartz can be a good middle ground; because it is still a high-end countertop, but with much less maintenance requirements.
It is also important that fixtures and faucets also follow this low maintenance philosophy. Brass can be a good investment. Brass faucets are durable and do not corrode as easily as others, and requires very little maintenance to keep it looking as good as new.
Glass shower doors are vital for a newer bathroom space, as most people are moving away from shower curtains. While curtains can be a cost-effective option, but most homeowners prefer glass doors. Make sure that the glass doors that you have installed have been treated with anti-spotting agents that will reduce upkeep and keep them looking clean for longer.
Bright Bathrooms
A bright, well-lit bathroom can be a big selling point for potential buyers. The brighter the room, the larger it will seem. Windows and skylights can be a great addition to a bathroom, and can add a lot of natural lighting to the space. Much like in a kitchen, lighting in different areas can be important. The vanity and shower should be especially well-lit. Reflective surfaces, such as mirrors or a glossy tile backsplash can help make the most of your lighting.
Energy Efficiency
Energy savings are one of the biggest selling points on today's market. The potential of saving money on utilities can be vital to closing a sale. Most home buyers will look to energy efficiency for both environmental and economic reasons. The first place to start is a tankless water heater. Low-flush toilets and low-flow faucets can reduce water use. Radiant floor heating will make use of your plumbing to heat the room. This can be especially effective with tile flooring.
To discuss bathroom or kitchen remodeling options that would be best for your home please contact us at (718) 273-6233 or visit our showroom at 711 Port Richmond Ave., Staten Island, NY 10302.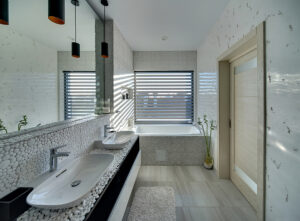 Ever stand on a riverbank, felling the smooth pebbles beneath your feet, as the water flowed by? What if you could capture that feeling in your home? Pebble tiles give you a chance to capture the beauty and peace of the river's edge in your home. These unique tiles create a blend of tranquility and style for any bathroom.
What are Pebble Tiles?
Pebble tiles are crafted ceramic or porcelain tiles, shaped to look and feel like river pebbles. They are grouted in place, just like any tile. But they create a mosaic of natural shapes and curves throughout the floor. The smooth, raised bumps of the stones create a spa-like feel on your feet. The subtle curves of the pebbles create a shiatsu experience for your bare feet. Pebble tiles often come in either solid colors or a blend. "Sliced" pebble tiles are a style of these tiles, where the tops of the stones are cut to be flat. While this takes away some of the appeal of these tiles, some homeowners prefer this to the slightly raised bumps of the stones. Sliced stones are also popular for walling.
Where are They Used?
While a whole bathroom space can be outfitted with pebble tiling, it is very common for homeowners to use the pebbles in the shower specifically. Pebble tiles can also be used along the walls, and are often employed to create beautiful, multicolored patterns on the walls of the shower. Pebble tiles can also be implemented into the vanity, or as a backsplash. Sliced pebble tiles are more popular for vanities than the rounded options.
Pebble tiles are great for "borderless" bathrooms that do not separate the shower from the rest of the room. Glazed ceramic pebble tiles have a naturally wet look, so the style can carry throughout the room seamlessly.
Drawback of Pebble Tiles
Although pebble tiles can help you create the perfect spa-style bathroom, they do have one drawback. As with most tiles, the grout will require cleaning just as often as a normal tile. But due to the smaller nature of the tiles, there will be more area for the grout overall. Maintaining a clean grout will help keep your bathroom looking incredible.
To discuss bathroom or kitchen remodeling options that would be best for your home please contact us at (718) 273-6233 or visit our showroom at 711 Port Richmond Ave., Staten Island, NY 10302.
Vessel sinks are making a big splash in 2019! Vessel sinks, also referred to as basin sinks, feature large bowls that sit on top of the vanity. This style adds elegance and style to the vanity, and can be an eye-catching part of the bathroom. Breaking away from more traditional drop-in or undermount style sinks, vessels are installed on top of the vanity itself.
Styles of Vessel Sinks
Vessel sinks come in a wide range of shapes, sizes, styles, and materials. They are most commonly in round or oval shapes, but they can also be found in square or rectangular models. Glass and ceramic are the most popular materials for sinks of these style; although some manufacturers will craft them out of natural stone, marble, copper, and even exotic woods. Because the vessel is top mounted, you can have more counter space on the vanity than with a more traditional style of sink.
Creating an Elegant Bathroom
A vessel sink brings plenty of style to a bathroom. It adds class to a bathroom in a way similar to that of a chandelier in the dining room. The basin becomes a statement piece, akin to a sculpture. Basin-style sinks are popular for powder rooms and bathrooms that are available to guests when company comes around for this purpose.
Making the Space Feel Larger
Vessel sinks can make a room feel bigger. Since the vanity that utilizes a vessel sink is usually built lower, there is more space between the counter and the ceiling. This helps smaller bathrooms appear more spacious.
Further Remodeling
Vessel Sinks are also good for when you decide to renovate again. Because the only hole required in the vanity is for the drain, you can easily swap out a vessel sink for a new one without the need to create a whole new vanity.
To discuss bathroom or kitchen remodeling options that would be best for your home please contact us at (718) 273-6233 or visit our showroom at 711 Port Richmond Ave., Staten Island, NY 10302.
Marble and concrete are often seen more in a kitchen than most other rooms; but both are becoming increasingly popular in bathrooms this year. With marble, the transition comes from creating a seamless and elegant bathroom space. Designers are moving towards concrete in ways that break the mold from the traditionally utilitarian uses of this material.
Marble
If marble is seen in a bathroom, it usually doesn't go beyond the vanity or the tub. But lately, interior designers are looking to use marble in more ways than just this. Marble can be used across a whole wall or floor in a single piece. It can also be used as the entire walk-in shower. Marble can create beautiful and inspired bathroom spaces that flows together well. Marble is good for resale, and is a great upgrade for if you eventually want to sell the house. Marble, along with quartz, is a durable and strong material that can take a lot of wear and tear when treated right.
Concrete
Concrete is a material that is often associated with very strong sturdy buildings, and not elegant spaces. However, some interior designers are working to reinvent the use of concrete. Concrete, with its neutral grey color can often be a good way to incorporate earth elements and create a more natural space. By mixing this seemingly brutalist material with more organic elements, you can create a space that is unique, strong, and comforting. Applications of concrete are being used widely in bathroom spaces, such as in sink basins, countertops, floors and walls.
To discuss bathroom or kitchen remodeling options that would be best for your home please contact us at (718) 273-6233 or visit our showroom at 711 Port Richmond Ave., Staten Island, NY 10302.
While popular in Japan and parts of Europe, bidets haven't been mainstream in America for a while. Bidets are a cleaner and more environmentally friendly alternative to toilet paper. In the past, bidets are often seen as frivolous or expensive add-on to a bathroom space. Over 80% of Japanese households use bidets. So what is causing bidets to make a big splash all of a sudden?
Bidets use small jets of water to help you stay clean after using the bathroom. Most modern bidets also have blow dryers built in. Some models allow you to add essential oils or fragrances to the fixture.
Traditional bidets are separate bathroom fixtures, requiring extra space and plumbing in the bathroom. More modern implementations of the bidet are built into toilets, or toilet seats. Some companies are actually starting to sell bidets that attach to the rim of the toilet as an add-on. These new add-ons make bidets more accessible to those who do not want to take the extra step to add on more plumbing to their existing bathroom space. With bidets becoming more easy to install and maintain, some homeowners are making the switch to go paperless.
To discuss bathroom or kitchen remodeling options that would be best for your home please contact us at (718) 273-6233 or visit our showroom at 711 Port Richmond Ave., Staten Island, NY 10302.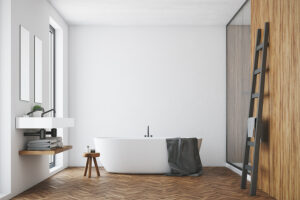 Scandinavian design style combines simplicity and utility with comfort and function. Homes and rooms that follow this trend make use of clean lines, natural materials, and the use of whites and neutral colors. They are often highlighted with lots of natural light. For bathrooms, Scandi-style takes the simple and natural aspects of spa-like decor to an even more minimalist level.
Beautiful Wood Design
Scandinavian style makes great use of natural materials like wood and stone. Wooden vanities, floors, walls, and more add natural warmth and comfort. Woods like white pine, ash, and beech are often used in this design style. These are all lighter colored woods that blend well with the white hues and darker neutral tones used in Scandi design.
Natural Lighting
In traditional Scandinavian design, natural lighting is a key aspect. While this may not always be an option when upgrading an existing space, making use of whatever natural light can be helpful. Consider using mirrors to enhance natural light in bathrooms with small windows. For more heavy duty projects, you may want to consider making the window space bigger, or adding a skylight.
Neutral Colors
Scandinavian style color schemes follow a soft blending of whites with cool darks and neutral tones. Colors such as charcoal or blue-grey are commonplace. Beige, soft browns, and light greys can often help blend the divide between the darker colors and the white hues. Pops of color can often come in the form of houseplants or accents such as a vase or an area rug.
Simple Lines
Scandinavian design makes use of simple lines and basic geometric shapes. Rectangles and squares are common in the design space. In more modernized or American versions of the style, bathrooms can often make use of subway tiles on the wall, which make use of these basic shapes while keeping the motif of white color in the space. The use of wood in these spaces also adds to these lines, as the lines made by planks can add another depth of these simple shapes.
To discuss bathroom or kitchen remodeling options that would be best for your home please contact us at (718) 273-6233 or visit our showroom at 711 Port Richmond Ave., Staten Island, NY 10302.
When adding a bathroom to the basement, or upgrading a pre-existing bathroom, there are a few important considerations to make. There is a lot of unique and interesting choices that you can add to a basement bathroom to make it feel more comfortable.
Lighting
Bathrooms in basements often have to work with limited or no natural light to create a beautiful space. If your basement bathroom has a window, it is likely a small one near the ceiling, close to the ground outside. In the event that you have a window, do not put the mirror on the same wall as it. You will want the mirror to reflect more of the natural light in the room, and brighten up the space. If you do not have a window, consider adding lights to the vanity in addition to the ceiling fixture. If you want the room to feature darker colors, consider using lighting fixtures with yellow bulbs, which can make the space feel more homey and natural.
Full or Half Bath
When designing a bathroom for the basement; you need to consider both the space available, and the plumbing. If you have the available space and fixtures to add a tub or shower; then you may want to consider these options. Standing showers require the least amount of space. They can often be implemented into bathrooms that otherwise wouldn't be able to fit a bathtub. Creating a full bath in the basement can be a good way to boost the value of the home. For those looking to live in the home or a long time, adding an extra shower can be a great way to avoid showering conflicts on busy mornings.
Flooring
Proper flooring in a basement bathroom is vital to a successful renovation. It is a good idea to avoid concrete or tile flooring if you do not have radiant floor heat in the bathroom. These flooring options can be very cold in the morning, and especially when used in the basement. Vinyl and linoleum are sturdy and relatively water resistant. They are not as cold or as hard to walk on. Vinyl or linoleum sheets are better than tiles of the same materials in a bathroom space, because there is less space for water to seep through.
To discuss bathroom or kitchen remodeling options that would be best for your home please contact us at (718) 273-6233 or visit our showroom at 711 Port Richmond Ave., Staten Island, NY 10302.
New York is one of the most cramped cities in the United states. Whether is small houses or small apartments, chances are you have a small bathroom. Your bathroom isn't not a lost cause just because it lacks the surface area and possibilities of a larger bathroom. Even for the smallest of bathrooms or washrooms the possibilities are endless.
How to Make Smaller Seem Bigger
The first thing most people think when it comes to remodeling a small space is "How can I make it seem larger?" Well there's quite a few answers. Something to make the room seem larger is the installation of a window or skylight. Adding one of these will help bring in natural light seeming to expand the room beyond your cramped walls.
Under sink storage could also work wonders for saving space. Using a wall mounted floating countertop with empty space underneath will leave you room to use fashionable under counter storage without the bulky look of a bathroom cabinet. This makes the room seem open and less cramped.
Small Decorations Big Difference
A trendy bathroom wouldn't be complete without subtle decorations and accents. The addition of towel bars can help bring color throughout your bathroom in an organized fashion. You also may want to use woven baskets for storage as they give your bathroom a natural pop and go great with the natural lighting created by the skylight. Lastly the addition of small picture frames and maybe a small end table can make your small bathroom feel more like home
To discuss bathroom or kitchen remodeling options that would be best for your home please contact us at (718) 273-6233 or visit our showroom at 711 Port Richmond Ave., Staten Island, NY 10302.