Marble and concrete are often seen more in a kitchen than most other rooms; but both are becoming increasingly popular in bathrooms this year. With marble, the transition comes from creating a seamless and elegant bathroom space. Designers are moving towards concrete in ways that break the mold from the traditionally utilitarian uses of this material.
Marble
If marble is seen in a bathroom, it usually doesn't go beyond the vanity or the tub. But lately, interior designers are looking to use marble in more ways than just this. Marble can be used across a whole wall or floor in a single piece. It can also be used as the entire walk-in shower. Marble can create beautiful and inspired bathroom spaces that flows together well. Marble is good for resale, and is a great upgrade for if you eventually want to sell the house. Marble, along with quartz, is a durable and strong material that can take a lot of wear and tear when treated right.
Concrete
Concrete is a material that is often associated with very strong sturdy buildings, and not elegant spaces. However, some interior designers are working to reinvent the use of concrete. Concrete, with its neutral grey color can often be a good way to incorporate earth elements and create a more natural space. By mixing this seemingly brutalist material with more organic elements, you can create a space that is unique, strong, and comforting. Applications of concrete are being used widely in bathroom spaces, such as in sink basins, countertops, floors and walls.
To discuss bathroom or kitchen remodeling options that would be best for your home please contact us at (718) 273-6233 or visit our showroom at 711 Port Richmond Ave., Staten Island, NY 10302.
While popular in Japan and parts of Europe, bidets haven't been mainstream in America for a while. Bidets are a cleaner and more environmentally friendly alternative to toilet paper. In the past, bidets are often seen as frivolous or expensive add-on to a bathroom space. Over 80% of Japanese households use bidets. So what is causing bidets to make a big splash all of a sudden?
Bidets use small jets of water to help you stay clean after using the bathroom. Most modern bidets also have blow dryers built in. Some models allow you to add essential oils or fragrances to the fixture.
Traditional bidets are separate bathroom fixtures, requiring extra space and plumbing in the bathroom. More modern implementations of the bidet are built into toilets, or toilet seats. Some companies are actually starting to sell bidets that attach to the rim of the toilet as an add-on. These new add-ons make bidets more accessible to those who do not want to take the extra step to add on more plumbing to their existing bathroom space. With bidets becoming more easy to install and maintain, some homeowners are making the switch to go paperless.
To discuss bathroom or kitchen remodeling options that would be best for your home please contact us at (718) 273-6233 or visit our showroom at 711 Port Richmond Ave., Staten Island, NY 10302.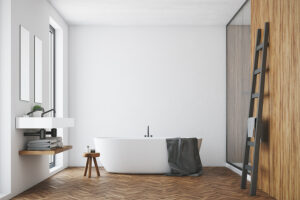 Scandinavian design style combines simplicity and utility with comfort and function. Homes and rooms that follow this trend make use of clean lines, natural materials, and the use of whites and neutral colors. They are often highlighted with lots of natural light. For bathrooms, Scandi-style takes the simple and natural aspects of spa-like decor to an even more minimalist level.
Beautiful Wood Design
Scandinavian style makes great use of natural materials like wood and stone. Wooden vanities, floors, walls, and more add natural warmth and comfort. Woods like white pine, ash, and beech are often used in this design style. These are all lighter colored woods that blend well with the white hues and darker neutral tones used in Scandi design.
Natural Lighting
In traditional Scandinavian design, natural lighting is a key aspect. While this may not always be an option when upgrading an existing space, making use of whatever natural light can be helpful. Consider using mirrors to enhance natural light in bathrooms with small windows. For more heavy duty projects, you may want to consider making the window space bigger, or adding a skylight.
Neutral Colors
Scandinavian style color schemes follow a soft blending of whites with cool darks and neutral tones. Colors such as charcoal or blue-grey are commonplace. Beige, soft browns, and light greys can often help blend the divide between the darker colors and the white hues. Pops of color can often come in the form of houseplants or accents such as a vase or an area rug.
Simple Lines
Scandinavian design makes use of simple lines and basic geometric shapes. Rectangles and squares are common in the design space. In more modernized or American versions of the style, bathrooms can often make use of subway tiles on the wall, which make use of these basic shapes while keeping the motif of white color in the space. The use of wood in these spaces also adds to these lines, as the lines made by planks can add another depth of these simple shapes.
To discuss bathroom or kitchen remodeling options that would be best for your home please contact us at (718) 273-6233 or visit our showroom at 711 Port Richmond Ave., Staten Island, NY 10302.
When adding a bathroom to the basement, or upgrading a pre-existing bathroom, there are a few important considerations to make. There is a lot of unique and interesting choices that you can add to a basement bathroom to make it feel more comfortable.
Lighting
Bathrooms in basements often have to work with limited or no natural light to create a beautiful space. If your basement bathroom has a window, it is likely a small one near the ceiling, close to the ground outside. In the event that you have a window, do not put the mirror on the same wall as it. You will want the mirror to reflect more of the natural light in the room, and brighten up the space. If you do not have a window, consider adding lights to the vanity in addition to the ceiling fixture. If you want the room to feature darker colors, consider using lighting fixtures with yellow bulbs, which can make the space feel more homey and natural.
Full or Half Bath
When designing a bathroom for the basement; you need to consider both the space available, and the plumbing. If you have the available space and fixtures to add a tub or shower; then you may want to consider these options. Standing showers require the least amount of space. They can often be implemented into bathrooms that otherwise wouldn't be able to fit a bathtub. Creating a full bath in the basement can be a good way to boost the value of the home. For those looking to live in the home or a long time, adding an extra shower can be a great way to avoid showering conflicts on busy mornings.
Flooring
Proper flooring in a basement bathroom is vital to a successful renovation. It is a good idea to avoid concrete or tile flooring if you do not have radiant floor heat in the bathroom. These flooring options can be very cold in the morning, and especially when used in the basement. Vinyl and linoleum are sturdy and relatively water resistant. They are not as cold or as hard to walk on. Vinyl or linoleum sheets are better than tiles of the same materials in a bathroom space, because there is less space for water to seep through.
To discuss bathroom or kitchen remodeling options that would be best for your home please contact us at (718) 273-6233 or visit our showroom at 711 Port Richmond Ave., Staten Island, NY 10302.
New York is one of the most cramped cities in the United states. Whether is small houses or small apartments, chances are you have a small bathroom. Your bathroom isn't not a lost cause just because it lacks the surface area and possibilities of a larger bathroom. Even for the smallest of bathrooms or washrooms the possibilities are endless.
How to Make Smaller Seem Bigger
The first thing most people think when it comes to remodeling a small space is "How can I make it seem larger?" Well there's quite a few answers. Something to make the room seem larger is the installation of a window or skylight. Adding one of these will help bring in natural light seeming to expand the room beyond your cramped walls.
Under sink storage could also work wonders for saving space. Using a wall mounted floating countertop with empty space underneath will leave you room to use fashionable under counter storage without the bulky look of a bathroom cabinet. This makes the room seem open and less cramped.
Small Decorations Big Difference
A trendy bathroom wouldn't be complete without subtle decorations and accents. The addition of towel bars can help bring color throughout your bathroom in an organized fashion. You also may want to use woven baskets for storage as they give your bathroom a natural pop and go great with the natural lighting created by the skylight. Lastly the addition of small picture frames and maybe a small end table can make your small bathroom feel more like home
To discuss bathroom or kitchen remodeling options that would be best for your home please contact us at (718) 273-6233 or visit our showroom at 711 Port Richmond Ave., Staten Island, NY 10302.
We have all heard of walk-in showers, but walk-in tubs? Walk-in bathtubs provide a safer way to enter a bathtub, and offer a built-in seat that allows for easy use and comfort. These special tubs are great for aging in place, or for upgrading your parent's existing bathroom space. Walk-in tubs are also great for handicapped individuals.
Walk-in tubs feature a door similar to a car, with rubber and magnets to be watertight. These doors offer a low-entry point, which reduces the tripping hazards associated with a traditional tub. Most Walk-in tubs are about waist height, offering a sturdy platform for toiletries that is within reach. Many models feature handrails and even hydrotherapy jets.
Walk-in tubs take up less floor space than a traditional tub. The taller nature of this style of tub means that you will be more fully immersed in the water. There are also models that double as showers.
One of the few major downsides of the walk-in tubs is that you have to sit in the tub as it fills or drains. These tubs can take 8 to 15 minutes to fill; as opposed to a traditional tub that can take about 5-10 minutes to fill. Draining the water away will take about the same amount of time for both styles of tubs, but you do have to stay in a walk-in tub until the water drains out.
Traditional tubs can vary in size, but will use about 42-80 gallons of water per bath. Most models of walk-in tubs will fill up at about 50 gallons. This means that you can be using up less water per bath vs a bigger tub.
To discuss bathroom or kitchen remodeling options that would be best for your home please contact us at (718) 273-6233 or visit our showroom at 711 Port Richmond Ave., Staten Island, NY 10302.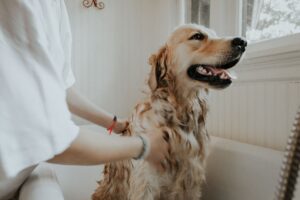 Having a pet around the house can be great; but you should take proper precautions to keep your furry friends safe. When renovating your bathroom, you might want to take your pets into consideration. Many of them will be a benefit to you, as well as your pet.
Pet Friendly Showers
Showers that make it easier to give your pet a wash can be very helpful, and very modern. A curbless shower reduces the risk of tripping; for both you and your pet. This type of shower is safer, because it reduces the risk of falls when you take your everyday shower; while also making it easier when it is bath time for your pet.
Non-slip surfaces in the shower will help you be safer in the shower, while helping your pet feel less nervous at bath time. Pets that don't like baths are often afraid of getting hurt on the sleek floor.
Detachable shower heads help you get all the hard to reach places; but they also make cleaning your cat or dog easier. A detachable shower head gives you greater control when getting the last of the suds, or avoiding water in their ears.
Litter Box Nook
A litter box is a necessary but unsightly part of cat ownership. When renovating your bathroom, consider adding a litter box nook. Transform part of your bathroom cabinetry into a nook for your cat's litter box. This way, the litter box is out of sight but is still accessible.
Tile Floors
Tile floors are the best choice for a pet-friendly bathroom. Tile is durable, easy to clean, and waterproof. It makes it easier for you to clean up after your dog shakes off his wet fur to dry off. Tile is also available in a wide variety of colors, shapes, and designs; so you can find ones that fit your style.
Toilet Lids
Not every homeowner opts for a toilet seat lid. But if you have a pet, it can be helpful in a number of ways. Toilet seat lids can be used to sit more comfortably when washing your pet in the tub. But they can also be used to protect your pet. We all know the common trope of a dog drinking out of the toilet. But this can make them extremely sick, or even poisoned; when you use toilet cleaners. For smaller, more agile pets, like cats, an uncovered toilet can be a potential drowning hazard. Cats can sometimes fall into the toilet, where the cupped edge and funnel-like interior can be difficult to escape from. Toilet seat covers can be helpful in protecting your pet's health and well-being. If your pet continues to access the toilet, consider adding a child-proof cover.
Locking Cabinets
Locking cabinets can keep your children, and your furry friends, out of your beauty products, cleaning chemicals, and medicines that they can otherwise access. If your pet gets into those items, they can easily make a mess of them, or get sick. Protect your children, pets, and your products from each other with locking cabinets.
To discuss bathroom or kitchen remodeling options that would be best for your home please contact us at (718) 273-6233 or visit our showroom at 711 Port Richmond Ave., Staten Island, NY 10302.

Bathtubs can come in all sorts of shapes, sizes, styles, and materials. There are a number of factors that go into the cost of a bathtub and it's installation. We are going to break down all of the features of a tub that can add to the cost of your tub.
Materials
The material of your tub is the number one factor of the tub price. Many tubs in homes are fiberglass. Fiberglass is inexpensive, lightweight, and strong. It also requires the least undermount support, because of how much lighter it is than other material options. Fiberglass does not compromise function for cost. A standard size fiberglass tub can range between $200-$1,000, not including labor and installation.
Enameled Cast Iron is the next step up. Cast iron retains heat well, and is extremely durable. It is also heavier than fiberglass, which means that it will usually need more weight support than the lighter material. A standard size cast iron tub can range between $500-$2,000, not including labor and installation.
Marble is one of the most expensive materials for bathtubs. Marble tubs are luxurious. The retain heat well, and is overall regarded as the best material for a tub. Marble is heavier than fiberglass, but lighter than cast iron. A standard size marble tub can range between $1,000-$2,500, not including labor and installation.
Sizes
A standard, 60 inch tub may not be what you want for your bathroom. The larger you go, the higher the cost of the tub. A fiberglass tub that is double the standard size can exceed $2,000. Walk-in tubs can be great for master bathrooms and are designed for both comfort and flexibility. The larger size tubs that are available can cost $1,500 to $10,000 depending on size and material used.
Styles
Built-in or stand alone tubs can vary in cost. Built-in tubs use walls to help support the weight and hide plumbing. They are often easier to install on a gutted bathroom, but are often harder to replace than a stand alone tub. Built-in tubs are usually less expensive than stand alone models of similar size and material.
Upgrades
Add-ons can add to the cost of a bathtub, but can make all the difference. Whirlpool tubs can cost a pretty penny more, but many homeowners find that it is a worthy investment. Whirlpool tubs will often require electrical hook-ups and changes to the plumbing system; which can add $500-$10,000 to the cost, depending on the upgrades required. Aromatherapy diffusers can be a great upgrade for those who really want to make their bathroom into a spa. They won't add too much to the cost of the bathroom; but the price will depend on the model.
To discuss bathroom or kitchen remodeling options that would be best for your home please contact us at (718)-273-6233 or visit our showroom at 711 Port Richmond Ave., Staten Island, NY 10302.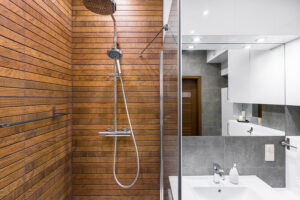 When designing a bathroom for use as a guest bathroom, there are a lot of small upgrades that can make all the difference. Here are a few add-ons to your guest bathroom that you can make to better your guests' stay.
Spa Designs
Spa-style design can go a long way in creating a comforting space for your guests. Bamboo cabinets, natural lighting, and natural stone can help create a zen space.
Decorative Toiletries
You can make it easier for guests to access toiletries by using them as decor. Use decorative baskets or built-in shelves to give them easy access to toilet paper or other necessities without compromising on style.
All-Inclusive Vanities
Vanities in a guest bathroom should have some extra items that a visitor might forget about when staying the night. Having a few extra items, like a magnifying mirror, or some extra beauty products can go a long way in making your guests feel more welcome in your home.
Guest Showers
Showers in a guest bathroom should have some extra safety features. You don't want guests to get hurt. Worse, you don't want to be sued. Add in some handrails, use a curbless shower design, and slip resistant tile to help protect your guest's wellbeing.
Relaxing Scents
Candles, potpourri, or reed diffusers can go a long way in creating a relaxing bathroom space for a guest. It doesn't take much to add more to the room that way.
To discuss bathroom or kitchen remodeling options that would be best for your home please contact us at (718)-273-6233 or visit our showroom at 711 Port Richmond Ave., Staten Island, NY 10302.

Steam showers are often seen as only for spas or gyms. But today, many people are installing them in their homes. A home sauna is a great way to relax and unwind after work. Steam showers can use up a small fraction of the water of a traditional shower, and have many health benefits.
Benefits
Steam has amazing benefits to your body. Steam can clear your sinuses. Steam can moisturize your skin, whereas hot showers can actually dry out your skin. Steam showers use up very little water. While a 20 minute traditional shower can use up about 50 gallons of water, a steam shower may only use 2 within the same time period.
How Do They Work?
Steam showers use a generator that heats up the water separate from your water heater. The generator heats the water to a boiling point, and allows you to control the temperature of the steam as it comes out. Many steam showers also allow you to mix in essential oils or refreshing scents like eucalyptus or mint.
Installing Steam Showers
Steam showers should be installed by professionals. They are supposed to be moisture-sealed. The power required of the steam generator depends on the volume of the steam shower, and the type of tile used. Stone tile rooms require more energy than ceramic tile. Steam showers often replace ordinary shower stalls, but can also be installed in addition to them. Some homeowners will build a traditional shower system into their steam shower. For larger bathrooms, steam showers can be their own section of the room.
To discuss bathroom or kitchen remodeling options that would be best for your home please contact us at (718)-273-6233 or visit our showroom at 711 Port Richmond Ave., Staten Island, NY 10302.