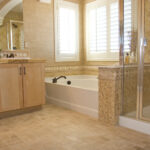 When remodeling your bathroom, the bathtub is an important part of the design. Dream Kitchen and Baths has a list of bathtub types to choose from, installation options, and bathtub materials that will make your tub perfect for your new bathroom.
There are three types of bathtubs to choose from–standard, whirlpool and air, and walk-in. A standard tub is a basic and affordable option that pairs as a tub-shower combo and can be bought at any improvement store. Whirlpool tubs force water through jets that are placed around the tub, and air tubs force a steady stream of air into the water. Walk-in tubs are ideal for those with mobility concerns because climbing out of a standard tub can be slippery and dangerous.
A new tub can complete your new bathroom. If you don't already have a tub in your bathroom, choosing the right installation method is an important part of the remodeling process. For example, platform installation would be best for whirlpool and air tubs because the platform can hide the extra plumbing, pumps, and hardware behind a detachable panel. Different from a platform installation, tubs installed with an undermount have a rim that is enclosed with a deck top and usually stone or tile that coordinates with surrounding materials. It usually gets it support underneath, rather than dangling from the deck as a platform does.
Choosing the right material is an important step in creating the perfect tub for your bathroom. You can choose from material options such as acrylic, fiberglass gelcoat, composite, or cultured marble. Acrylic is a plastic material that has a high-gloss look that is similar to enameled cast iron, but weighs much less. This option offers simple repairs and has an easy-to-form nature, perfect for whirlpool and air tubs. Fiberglass gelcoat tubs have a glossy, easy to clean surface and is cheaper than acrylic. however it is not as durable. Composite tubs are made of an engineered material that is coated with enamel. This option offers the heat retention that a cast iron tub has at a third of the weight, making it perfect for bathrooms on the second floor. Cultured marble tubs are solid-surface bathtubs made from crushed marble that is set in resin and covered with a clear gelcoat. Scratches can be buffed out, but cracks cannot be repaired.
For more information about bathtubs and installation, contact Dream Kitchen and Baths at 718-273-6233 or come visit our showroom and we will gladly help you! 711 Port Richmond Ave, Staten Island, NY 10302.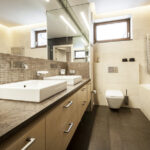 The counter tops in your bathroom can look good and serve its purpose. Delicate and porous surfaces can break and stain easily, so you'll need a durable surface that can survive your morning rush routine. Also the tops of your counters can serve as the focal point of your bathroom, as well as a connecting point between cabinetry and tile. The counter surface that you choose depends on your taste and budget. Here are some options to choose from for your bathroom counter tops:
Granite – A granite counter surface gives your bathroom a sleek look, and if you're renovating to sell, it definitely attracts buyers. Today there are affordable grades of granite available so that you don't have to spend a fortune on your counter tops. This surface can handle heat, wear, stains, and looks great.
Solid Surface – Quartzite materials are very low maintenance. These counter surfaces are extremely durable–they can endure heat, stains, and scratches can easily be buffed out with fine-grade sandpaper. The cost of quartzite materials are comparable to granite and marble.
Laminate – Laminate counter tops are available in a wide range of finishes, including some that look like granite or solid surface. This economical choice is a popular pick for counter surfaces because it stands up to water and is relatively stain-proof.
Metal – Metal counter tops, while expensive, are very strong. Metals used in countertops include stainless steel, pewter, copper, and zinc. These surfaces are heat and stain resistant as well as anti-bacterial. These counters may be susceptible to dents and slight scratches. The other metals are also weaker than stainless steel.
Recycled Glass – These counter tops are eco-friendly, as well as beautiful. It can come in a wide variety of colors and patterns. This countertop material may be hard to find, but it is durable and easy to clean. It is heat and stain resistant. Chips and scratches are a downside of these surfaces.
Tile – Tile counter tops come in a wide variety of colors and finishes that can be laid out in many different patterns. Custom artistic detail can always be added. Although this type of counter top comes with a lot of maintenance, it's a popular pick for counter surfaces and a durable choice.
Wood – Wooden counter tops are porous, however they can be sealed to prevent water damage. This choice will add a warm, inviting look to your bathroom.
To discuss bathroom or kitchen remodeling options that would be best for your home, please contact us at (718) 273-6233 or visit our showroom at 711 Port Richmond Ave, Staten Island, NY 10302.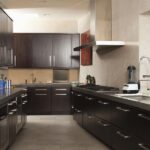 Renovating your kitchen? Kitchen cabinets are a huge part of the kitchen renovations. Cabinets take up most of the space and can set the style that you want. So how do you know what kind of style you want for you cabinets? There are two main categories when it comes to kitchen cabinet styles: modern and traditional, however, there are many subcategories to choose from:
Antique – Antique kitchens display particular features from an early period that bring a feel of age and beauty into the home.
Asian – Asian kitchen designs are becoming very popular in the U.S. This style brings a fresh look to the kitchen with beautiful range of materials and colors.
Contemporary – This style became popular in the mid 20th century and includes clean lines, flat surfaces, and minimal ornamentation.
Country – Country style kitchens are cozy, and comfortable and feature glazed cabinets, farmhouse sinks, panelling, and other country details.
Victorian – This design includes ornate detailing of intricate carvings and elaborate, gothic orientation.
To discuss bathroom or kitchen remodeling options that would be best for your home, please contact us at (718) 273-6233 or visit our showroom at 711 Port Richmond Ave, Staten Island, NY 10302.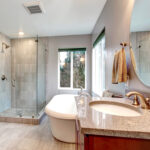 1. Focus on Style and Function – Think about what kind of use you want to make out of your bathroom. Do you want to soak in the tub for a few hours and red a magazine? Or do you shower and run? Plan your renovations around how you use your bathroom and what you would like to get out of it. As for style, bathrooms are quite a personal space. You want it to be a place where you feel comfortable and relaxed. Focus on a style that you'll love.
2. Assessing Costs – Create a budget. Set the areas where you feel comfortable splurging a bit, and the areas where you can find the most cost effective options. Know how much you are willing to spend on your bathroom renovation and know how you want to spend it.
3. Space Planning and Storage – Evaluate the space existing space in your bathroom. Do you have enough space for what you need? Or do you want to create more space with the renovation? Consider different layouts and space saving options if you are looking to change the amount of space provided in your bathroom. Consider installations that will maximize storage.
4. Choosing Materials – Shopping and picking out the right accents will give your new bathroom charm. Consider backslashes, lighting, cabinets, vanities, flooring, fixtures, countertops, and special features that you can picture in your renovated bathroom. All of these details are important factors that will tie the space together when it's completed.
5. Getting it Done – Dream Kitchen and Bath can create the ideal bathroom for you. From planning to installation and renovation, we will be there to help you through the process and get it done the right way. To discuss bathroom or kitchen remodeling options that would be best for your home, please contact us at (718) 273-6233 or visit our showroom at 711 Port Richmond Ave, Staten Island, NY 10302.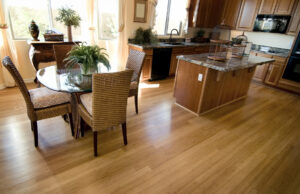 The kitchen is the most popular room in the house. You're always cooking, cleaning and eating with family and friends there, so it has to be looking its absolute best. Choosing the style of your kitchen floor can essentially come down to two options — tile flooring or hardwood floors. At Dream Kitchens and Baths, we design exquisite and upscale kitchens. With our help, you will have a kitchen that will be the envy of all of your friends.
Hardwood floors in the kitchen look amazing when done. They give off a sophisticated, clean and rustic ambiance to the setting of your kitchen. Hardwood floors in your kitchen can also increase the overall value in your home. There are endless options of wood that can be installed in your kitchen: Ash, walnut, and mahogany being just a few examples. Maintaining your hardwood floor is a breeze; vacuum and dust regularly, and clean using a microfiber cloth. Try to avoid heavy cleaners that can damage and discolor the floor. Placing area rugs underneath the sink/dishwasher area, help to prevent possible moisture damage to the floors. Hardwood floors are a more modern style in kitchen floor designs and is a rising trend.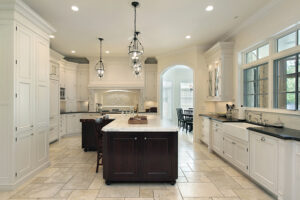 Tiles are the standard and classic flooring of choice for the kitchen. With many different style options: cut, color, and design, you cannot go wrong when choosing tiles. Tiles offer your kitchen a polished and neat look. Tiles, like hardwood floors are easy with maintenance, but unlike hardwood flooring, there wouldn't be any moisture concerns that could cause damage to the tile.
Whichever style of flooring you choose, it will definitely leave a stylish impact on your kitchen.
For more information on kitchen design and flooring installation, please call our office at (718) 273-6233.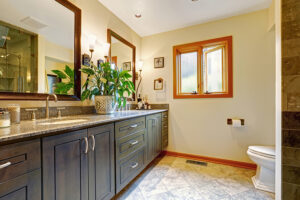 Liven up the look of your bathroom this summer with help from Dream Kitchens and Baths. We turn any ordinary bathroom into a setting with style.
There are an ample amount of trends that you can get inspiration from when remodeling your bathroom. One of the simpler trends is to change up the tile in the bathroom; tiles with distinct patterns or a pop of color instantly refreshes the overall look.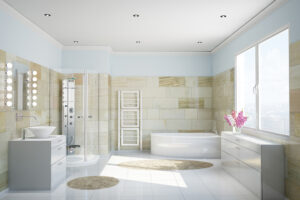 Marble, mosaic, and even wood furnishings in your bathroom add a polished and classic element to your bathroom. These types of furnishings not only look great, but are a breeze to maintain. Clear glass showers are also a big trend this year, as it serves as an additional classic and clean element to your bathroom.
Another interesting element of design to revamp your bathroom is to add plants anywhere in the setting. Whether it's a big potted plant in the corner or a small cactus perched on the sink, plants give off a modern and fresh flare to your bathroom.
Dream Kitchens and Baths gets any job done in a quick and efficient amount of time. With proper planning, you can have a newly updated and revamped bathroom in just three days.
These are just a few of the hottest bathroom trends for this year, so be sure to inquire us for more information on how we can help you remodel your bathroom. Call our showroom today to get more inspiration for your bathroom redecorating (718) 273-6233.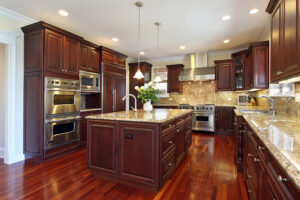 Summer is slowly approaching, and so are the newest trends for your kitchen.The professionals at Dream Kitchen and Bath will transform your kitchen visions into reality.
A hot, up-and-coming rising trend for the summer is having lots of spacious cabinetry. The accumulation of more appliances lead to the need for more space in your cabinets. Larger cabinets allow for awesome features like lazy susans for easy access, pull-out cabinets that hold waste receptacles including recycling. Some examples of companies that provide with the latest trend include: Thomasville, Kraftmaid, Kitchenaid, and so many more. By having this feature, it not only serves the purpose of having ample room for storage, but it gives your kitchen an overall sleek finish to it.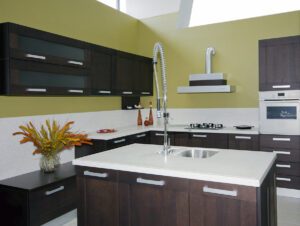 New Colors are another kick starter trend for the upcoming season. Although, it isn't through the common backsplash or paint job, but more like wallpaper. By adding gold and yellow-toned wallpaper to your kitchen, it adds a warm and comforting appeal to the space. More cool tones like darker blues and grey add a sleek and clean appearance, and with either color, it is a sure fire way to shine the light on one of the most appealing areas in your home. Wallpaper is also great for the kitchen due to it's versatility and simple appliance and maintenance.
The kitchen professionals at Dream Kitchens and Bath are here to help make your kitchen look its best for the new upcoming season. They are also up-to-date with the latest in kitchen design and outlook. For more information on how we can help you model the kitchen of your dreams, feel free to give us a call at (718) 273-6233.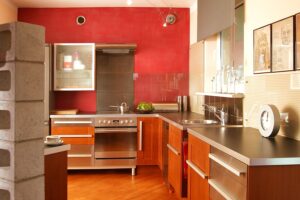 In large kitchens, commercial cooking appliances can offer a lot of help. If you have the space, upgrading to professional kitchen gear can make preparing large meals or storing lots of food a breeze. There are pros and cons to increasing the size of your appliances, so be sure to consider all of the aspects carefully.
In homes that see a lot of family gatherings, or just have a large number of people living within, commercial appliances could be a huge benefit. The extra-large stovetop or refrigerator can see a lot of use throughout it's years of service. Having cold storage or a lot of cook space can be a life saver if you host parties often. However, commercial level appliances can take up a lot of power, and can take a toll on the electric or gas bill. Some commercial ranges come with all sorts of cookspace, such as extra burners, a built-in griddle, 2 ovens, larger warming trays, and more powerful fans. This gives you more variety for how to cook, as well as giving you the space to cook multiple meals or dishes simultaneously. To deal with the massive heat coming off of a commercial range, an exhaust hood may be needed. This will take up more space in the kitchen, and building the proper ventilation can lead to extra costs. While commercial appliances are bigger than standard models, this can actually increase your counter space. While they take away counter width, the bigger appliance can add length. The longer counters with less width can add depth to the kitchen, especially with an earthy backdrop against the wall.
To discuss kitchen remodeling options that would be best for your home please contact us at (718) 273-6233 or visit our showroom at 711 Port Richmond Ave., Staten Island, NY 10302.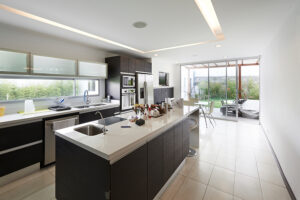 Do you only have one sink in your kitchen? Sinks are an essential part of any kitchen, but having only one sink can be an issue. When dishes stack up, produce needs to be cleaned, or pots need to be filled, a single sink can be overused. Adding these innovations to your kitchen can reduce your reliance on your single kitchen sink.
Four additions to your kitchen you may want to consider are double sinks, bar sinks, High-style faucets, and pot fillers. They can make cooking and cleaning in your home easier. Double sinks are two separate sink basins, for one faucet. They can be different sizes, or the same. Having a double sink can increase the amount of sink space in your home, while keeping dirty dishes and food prep separate. Bar sinks are tiny, built-in sinks, mostly used for drinking water, washing vegetables, or small cleaning jobs. Putting one into an island can make prep work more efficient. They are also very helpful in large kitchens, so you don't have to walk all the way around for a sink. High-style faucets let you fill up the sink, and still have room to fill a glass or wash dishes. Pot fillers are cold water faucets that are separate from the sink. This can make it easier to fill a pot for cooking.
To discuss kitchen remodeling options that would be best for your home please contact us at (718) 273-6233 or visit our showroom at 711 Port Richmond Ave., Staten Island, NY 10302.
Bathroom remodeling is no small task. Before you start to tear up your bathroom, get the best advice from professionals who specialize in remodeling. Dream Kitchen and Baths has come up with a list of important tips for getting every detail right for your bathroom.
Tile Floors: If you want an easy care-free floor try going for porcelain or glazed tiles and avoid porous natural stone tiles like limestone. If the tiles are sealed carefully, they'll absorb drips and spills and become discolored over time. If you are looking for a nonslip floor pick tiles with textured surfaces, matte finishes, or sand-containing glazes. A different option is small tiles with grout lines, which give better "grip" than large tiles.
Top-Tier Toilets: Maximum Performance testing (MaP) gauges a toilet's capability to get the job completed with just one push of the handle. Search for a loo with a MaP score of 500 or higher which includes many WaterSense-rated toilets, high proficiency models that use as small as half of the 1.6-gallon-per-flush legal limit.
Sinks: Every sink style has its benefits. Select the one that best suits your needs and wants. There are three selections to choose from including a Pedestal, Vanity and Vessel sink. The pedestal sink is a slender silhouette and is a favorite in little powder rooms and small-scale baths, but offers no storage and small deck space. The vessel sink bowl is placed above the counter, so you'll have more space for drawers and storage below it. Nevertheless the work surface has a smaller amount of available space and it's harder to keep clean. A vanity with sink takes up the most room, but it offers the most value. An average 30-inch vanity has approximately 15 cubic feet of storage and around 10 inches of countertop on each side.
Countertop Choices: 3 Choices to choose from: Natural stone, Resin-Based, Laminate.
Natural stone: is best for high-end baths cared by attentive homeowners. There is natural beauty in every block and polished granite is highly stain and scratch resistant. Conversely natural stone must be sealed frequently, absorbent types such as marble and limestone, will stain and scrape if dropped toiletries and cleaners aren't cleaned up fast, enhanced surfaces can show water and oil marks.
Resin-Based: Best for countertops with rare shapes or sizes. Whether a straight resin or one finished with marble dust, these can be molded as a single, seamless piece, regularly including the sink, comes in a wide variety of colors, needs no sealing.
Laminate: Best choice for baths on a strict budget. Laminate is affordable and available in prefab slabs at home centers, stain and scratch resistant and a huge variety of colors, finishes and textures.
Don't run out of hot water: If you're adding a soaker tub or a multi-head shower you might need a larger water heater. Tank-style heaters are labeled with a first hour rating (FHR), an amount of how much hot water it makes in an hour.
Get replacement parts for free: When you have trouble with any part of a brand-name plumbing fixture-no matter what may have caused it, call the manufacturers toll free number and explain the problem. Most will rush you replacement parts at no charge.
Pick a proper vent: A fan is a must for your bathroom. For a master bath purchase a quiet unit that won't wake up your partner during night trips. Be sure it has enough power for back-to-back showers, and place it on timer to let it run for 20 minutes to banish steam after you're done. For a family or guest bath choose a model with medium noise level and power which will save you a few bucks every month.
Dream Kitchen and Baths specializes in bathroom and kitchen remodeling. If you're looking to remodel contact us now at 718-273-6233