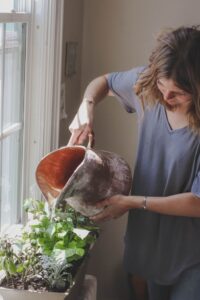 Most kitchen spice racks have too many shakers to count, most of which we don't use as often as others. While it doesn't hurt to have a bevy of random spices to add a bit of flair to your dish, a disorganized spice rack can be annoying to navigate while the stove is on. Below are a few ways to spice up your spice rack.
Fresh Herbs
Fresh herbs can punch up a dish a lot more than that of the dried and flaky variety. If you aren't afraid of trying out your green thumb, consider growing a few herbs in your kitchen window. Parsley, basil, sage, and rosemary are relatively easy to care for, and can be a great addition to your kitchen decor. Add a bit of fresh green color to your kitchen space with a windowsill herb garden.
Switch to a Spice Drawer
Storing spices in a drawer can give you more overhead space for dishes, and can make it easier to access more of your spice collection. You can rest all the spice containers on their sides to read the labels easier, or use a label maker with a deep drawer to find just what you need.
Magnetic Spice Racks
Store your spices on the cabinet doors, with magnetic spice racks. There are 2 different styles of magnetic spice racks. The first uses magnetic shelves that connect to the inside of the door, upon which the jars and shakers are placed. The other option is attaching a magnetic sheet to the inside of the door, and keeping your spices in metal canisters.
To discuss bathroom or kitchen remodeling options that would be best for your home please contact us at (718) 273-6233 or visit our showroom at 711 Port Richmond Ave., Staten Island, NY 10302.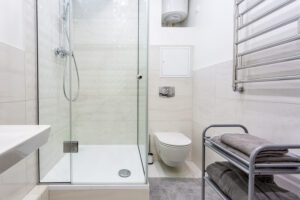 Wall-mounted toilets are growing in popularity for their sleek and sturdy, modernist style. While these stylish commodes can cost a bit more than your average potty to install, there are clear advantages and disadvantages here. To figure out if a wall-mounted toilet is right for your next remodel, we will explore the pros and cons of them.
Mounting
A wall-mounted toilet requires the tank to be built into the wall, and is installed in between wall studs for support. This can be difficult to place in some bathrooms, simply because of the placement of the studs. This can mean a more costly installation than a run-of-the-mill model.
Height is adjustable upon installation. Wall mounted toilets can be a good solution for taller residents, as you can determine the amount of space between the toilet and the floor below. Most municipalities allow between 15 and 19 inches of space between the floor and the bowl.
Space Saver
Wall-mounted models are usually more compact than a floor-mounted toilet. By installing the tank into the wall, you can save an average of 10 inches in front of it. This can be vital to keeping smaller bathrooms up to building codes.
Costly Install
Compared to a more traditional toilet install, a wall mounted toilet can be a decent amount more. Opening the wall is required for this, so it is better off to do this if you intend to change the whole design of the walls. Additionally, it can be difficult to match pre-existing tiles to fill in the space on the floor once occupied by a traditional toilet, so it is often a good idea to just replace it.
Cleaning
Wall-mounted toilets hover over the ground, and are generally sleeker than a traditional bowl. This helps make cleaning and bathroom upkeep easier. No more trying to get the mop in the space below the tank.
High-Efficiency
While most wall-mounted units are installed with a panel to access the plumbing in the event of a plumbing issue; most of these models are designed for high-efficiency. Many have strong, low-water flushes, to maximize efficiency. Some models will also have dual-flush systems.
To discuss bathroom or kitchen remodeling options that would be best for your home please contact us at (718) 273-6233 or visit our showroom at 711 Port Richmond Ave., Staten Island, NY 10302.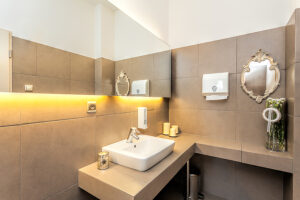 The kitchen and bathroom are often the first rooms in the home to be updated for an upcoming sale. But it is important to invest into the parts of the room that matter to potential buyers. The three selling points to a newly renovated bathroom are low maintenance surfaces, brightness, and energy efficiency.
Low Maintenance Surfaces
Materials and finishes that reduce cleaning and care can be a huge selling point for potential buyers. Marble can be a lavish upgrade, but it's general upkeep can make it less desirable for those looking to buy your home. Quartz can be a good middle ground; because it is still a high-end countertop, but with much less maintenance requirements.
It is also important that fixtures and faucets also follow this low maintenance philosophy. Brass can be a good investment. Brass faucets are durable and do not corrode as easily as others, and requires very little maintenance to keep it looking as good as new.
Glass shower doors are vital for a newer bathroom space, as most people are moving away from shower curtains. While curtains can be a cost-effective option, but most homeowners prefer glass doors. Make sure that the glass doors that you have installed have been treated with anti-spotting agents that will reduce upkeep and keep them looking clean for longer.
Bright Bathrooms
A bright, well-lit bathroom can be a big selling point for potential buyers. The brighter the room, the larger it will seem. Windows and skylights can be a great addition to a bathroom, and can add a lot of natural lighting to the space. Much like in a kitchen, lighting in different areas can be important. The vanity and shower should be especially well-lit. Reflective surfaces, such as mirrors or a glossy tile backsplash can help make the most of your lighting.
Energy Efficiency
Energy savings are one of the biggest selling points on today's market. The potential of saving money on utilities can be vital to closing a sale. Most home buyers will look to energy efficiency for both environmental and economic reasons. The first place to start is a tankless water heater. Low-flush toilets and low-flow faucets can reduce water use. Radiant floor heating will make use of your plumbing to heat the room. This can be especially effective with tile flooring.
To discuss bathroom or kitchen remodeling options that would be best for your home please contact us at (718) 273-6233 or visit our showroom at 711 Port Richmond Ave., Staten Island, NY 10302.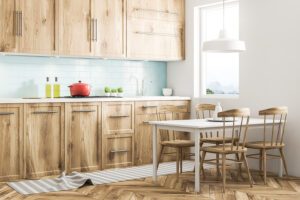 Scandinavian design has been growing more and more popular in recent years for a number of reasons. The interior design style combines inexpensive materials with simple colors and muted textures to create a minimalistic approach to home decor that is both budget-friendly and beautiful. But what exactly makes a kitchen Scandi-style?
Let in the Natural Light
Winters are long and dark in Scandinavian countries, so designers there try to emphasize natural light whenever possible. Maximising the amount of natural light in a space is the first step of creating a Scandinavian inspired kitchen. Window treatments, such as curtains, are often absent. If they are used, they are usually lightly-colored or sheer.
Muted Colors
White is the best color to have in a home where natural light is welcome. Much of Scandinavian color schemes use a lot of white, with additions of neutral tones and muted hues. When colors are utilized, they are kept soft and understated. This keeps the space bright and uniform, but isn't bland. Soft, dark blues or greys may act as accent colors.
Wood
Wood elements are crucial to Scandinavian style homes. Floors and cabinets are usually wood. As soft colors and neutral tones are key to a Scandi-style space, lighter woods such as beech, ash, and pine are often implemented. Wood elements are often not stained or painted, to show off the natural color of the material.
Decluttering
A Scandinavian Style kitchen keeps things minimalist. Keeping the home free of clutter is important in Scandi-style design. Organized cabinetry is a great way to keep the space decluttered. If open shelving is employed in the space, they are usually used sparingly, to stop the room from looking too cluttered. Simple accents highlight the room. Even the walls are kept decluttered. While art pieces are welcome in a scandi-style room, they are often spaced out, and kept small. Bare walls and blank spaces are common.
Plants
Bringing life to the room is also very important to Scandinavian style. Potted plants can be a perfect accent point in a kitchen, and can add a pop of color. Choose plants that thrive with plenty of natural light.
To discuss bathroom or kitchen remodeling options that would be best for your home please contact us at (718) 273-6233 or visit our showroom at 711 Port Richmond Ave., Staten Island, NY 10302.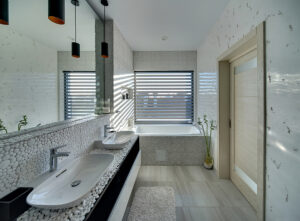 Ever stand on a riverbank, felling the smooth pebbles beneath your feet, as the water flowed by? What if you could capture that feeling in your home? Pebble tiles give you a chance to capture the beauty and peace of the river's edge in your home. These unique tiles create a blend of tranquility and style for any bathroom.
What are Pebble Tiles?
Pebble tiles are crafted ceramic or porcelain tiles, shaped to look and feel like river pebbles. They are grouted in place, just like any tile. But they create a mosaic of natural shapes and curves throughout the floor. The smooth, raised bumps of the stones create a spa-like feel on your feet. The subtle curves of the pebbles create a shiatsu experience for your bare feet. Pebble tiles often come in either solid colors or a blend. "Sliced" pebble tiles are a style of these tiles, where the tops of the stones are cut to be flat. While this takes away some of the appeal of these tiles, some homeowners prefer this to the slightly raised bumps of the stones. Sliced stones are also popular for walling.
Where are They Used?
While a whole bathroom space can be outfitted with pebble tiling, it is very common for homeowners to use the pebbles in the shower specifically. Pebble tiles can also be used along the walls, and are often employed to create beautiful, multicolored patterns on the walls of the shower. Pebble tiles can also be implemented into the vanity, or as a backsplash. Sliced pebble tiles are more popular for vanities than the rounded options.
Pebble tiles are great for "borderless" bathrooms that do not separate the shower from the rest of the room. Glazed ceramic pebble tiles have a naturally wet look, so the style can carry throughout the room seamlessly.
Drawback of Pebble Tiles
Although pebble tiles can help you create the perfect spa-style bathroom, they do have one drawback. As with most tiles, the grout will require cleaning just as often as a normal tile. But due to the smaller nature of the tiles, there will be more area for the grout overall. Maintaining a clean grout will help keep your bathroom looking incredible.
To discuss bathroom or kitchen remodeling options that would be best for your home please contact us at (718) 273-6233 or visit our showroom at 711 Port Richmond Ave., Staten Island, NY 10302.
It may sound crazy, but one of the best ways to connect with the outdoors may just be from inside your kitchen. Many homeowners are deciding to redesign their kitchen to be more nature-oriented. There are a few ways you can upgrade your kitchen by bringing it back to nature.
Natural Light
While natural light and windows are vital to a kitchen, many interior designers have been focusing on it even more than in previous years. Skylights and large windows are becoming increasingly popular.
Some homeowners are adding glass doors to kitchens that lead out to entertainment spaces in the backyard. Connecting your outdoor space or patio to your kitchen makes entertaining easier, and more seamlessly blends the kitchen with the outdoors.
Natural Wood
While wood cabinets are common in homes across the world, not every kitchen makes use of wood elsewhere. Hardwood or bamboo floors can be a great fit for a home that is looking for a more natural feel in the kitchen. Hardwood floors in particular have been rising in popularity for kitchen renovations for a while, and it seems that the trend will continue. Butcher block or bamboo are very popular choices for countertops now.
Quartz
Quartz is a beautiful, high-end option for kitchen countertops. The material is anti-microbial, easy to maintain, hardy, and long-lasting. The most popular colors for quartz right now are neutral tones, such as grey, taupe, and cream. Neutral hues of Quartz go well with natural lighting and can pair nicely with many natural wood colors.
To discuss bathroom or kitchen remodeling options that would be best for your home please contact us at (718) 273-6233 or visit our showroom at 711 Port Richmond Ave., Staten Island, NY 10302.
Vessel sinks are making a big splash in 2019! Vessel sinks, also referred to as basin sinks, feature large bowls that sit on top of the vanity. This style adds elegance and style to the vanity, and can be an eye-catching part of the bathroom. Breaking away from more traditional drop-in or undermount style sinks, vessels are installed on top of the vanity itself.
Styles of Vessel Sinks
Vessel sinks come in a wide range of shapes, sizes, styles, and materials. They are most commonly in round or oval shapes, but they can also be found in square or rectangular models. Glass and ceramic are the most popular materials for sinks of these style; although some manufacturers will craft them out of natural stone, marble, copper, and even exotic woods. Because the vessel is top mounted, you can have more counter space on the vanity than with a more traditional style of sink.
Creating an Elegant Bathroom
A vessel sink brings plenty of style to a bathroom. It adds class to a bathroom in a way similar to that of a chandelier in the dining room. The basin becomes a statement piece, akin to a sculpture. Basin-style sinks are popular for powder rooms and bathrooms that are available to guests when company comes around for this purpose.
Making the Space Feel Larger
Vessel sinks can make a room feel bigger. Since the vanity that utilizes a vessel sink is usually built lower, there is more space between the counter and the ceiling. This helps smaller bathrooms appear more spacious.
Further Remodeling
Vessel Sinks are also good for when you decide to renovate again. Because the only hole required in the vanity is for the drain, you can easily swap out a vessel sink for a new one without the need to create a whole new vanity.
To discuss bathroom or kitchen remodeling options that would be best for your home please contact us at (718) 273-6233 or visit our showroom at 711 Port Richmond Ave., Staten Island, NY 10302.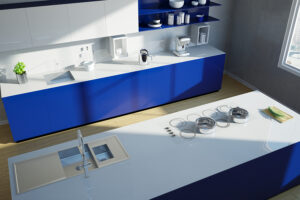 White cabinets have been a staple of modern kitchen design for a long while, but that time seems to be coming to a close. White cabinets are going out of trend, and are being replaced with bold new color choices and designs.
Why Not White?
White cabinets have been trendy for a long time, but it seems they are falling out of favor with interior designers and homeowners alike. Ultimately, while white cabinets add brightness to the kitchen, designers are abandoning them for more innovative splashes of color. From the homeowner perspective, white cabinets require more frequent cleaning before they look dirty. A move towards colored cabinets can bring a rich vibrance or a new mood to the kitchen that white cabinets can't always bring.
Alternate Color Options
So what are homeowners choosing over white for their cabinets? Most designs are swinging toward bold colored cabinetry instead of the expected white; to add personality to the space. Vibrant reds or blues can create an energizing space. Mint is also gaining a lot of popularity in cabinetry color. The soft and light green shade is making a big splash for cabinets. Deeper blue hues can make a kitchen feel cooler, which can help when you are cooking.
Still Like White Cabinets?
If you like the look of white cabinets for your kitchen, consider moving towards a shade of grey or off-white. Light grey cabinets can be a good compromise; as it keeps the space lighter and more toned-down, without having to worry as much about the frequent cleaning that white cabinets require. White cabinets will still be fairly commonplace in kitchens, but many homeowners are moving towards more evocative colors, and shades that require less cleaning to maintain their vibrancy.
To discuss bathroom or kitchen remodeling options that would be best for your home please contact us at (718) 273-6233 or visit our showroom at 711 Port Richmond Ave., Staten Island, NY 10302.
Rustic kitchen design is the perfect way to create a warm, cozy kitchen space. But rustic design does not mean outdated. In this article, we will be exploring the 2019 rustic kitchen trends that are sure to make your kitchen space feel new and proved while still bringing that rustic flair.
Dark Countertops With Dark Cabinets
Modern kitchen spaces that utilize dark countertops often pair them with white cabinetry to create a contrasting space. More contemporary rustic designs are pairing dark, matte-finished granite countertops with dark cabinets. This creates a seamless transition between them. This style makes use of rustic blending while making use of darker color schemes more often found in modern kitchens; bridging the gap between traditional and contemporary design in a beautiful way.
Linear Lighting
For a while, pendant lighting has been a major component of kitchen design. But linear lighting styles are a great way to get the lighting quality of pendants, while making a beautiful statement with the fixture. Linear lighting uses a bar to house multiple light fixtures in a line horizontally.There are many modern Linear fixtures, but there are plenty out there that can fit well into a rustic kitchen.
Cutout Handles
Rustic design likes to keep things simple and elegant. One of the best ways to do this is to have inset or cutout handles in your cabinetry. By choosing cabinets with cutouts, you can save money that would normally go to handles or knobs. This style choice can be helpful to your budget, and can be a unique aspect of your kitchen design.
Mirrors
Mirrors are a great way to make use of natural light and make a room seem bigger. Mirrors with simple wooden frames can help drive home the rustic feel.
Footed Islands
Not every island needs to be built into the floor. A very new trend in rustic kitchens is the implementation of freestanding, footed islands. Much like having a large desk in place of an island, these pieces can be a beautiful and eye-catching aspect of a kitchen space. Some homeowners choose to use antique or custom made pieces to use as their islands.
To discuss bathroom or kitchen remodeling options that would be best for your home please contact us at (718) 273-6233 or visit our showroom at 711 Port Richmond Ave., Staten Island, NY 10302.
Many modern kitchens feature nothing but sleek and smooth features. This can look visually pleasing, but leaves the room feeling two-dimensional.Texture affects the space by providing both physical and visual breaks to the room, which help define the room more fully. By adding a bit of texture to the space, you can develop a kitchen space with defined depth and style. What are some ways you can add texture to your kitchen?
Different Elements
In a kitchen, a variety of elements can interplay with each other. Blend the usage of stone, wood, glass, or metal together. A brick backsplash can tie in well with hardwood floors. By using different materials, with different textures in the room; you can give the space surface lift.
Patterns
Patterns can add a visually stimulating and engaging aspect to the room. But patterns are also a great way to add texture to the space. Patterns in the tiles for the backsplash can add texture from both the tiles themselves, as well as the grout in between. Wallpaper can be another way to add both texture and patterns to a kitchen. Wood paneling can add depth and patterns through lines.
Textured Finishes
Wood and glass finishes can provide a lot of textural elements to a kitchen. When picking out your cabinetry, consider choosing cabinets with distressed or glazed finishes, which can highlight the uniqueness of the wood. Glass can add texture via finishes as well. Glass in the cabinet doors or in the window can be an inspired source of texture. Glass finishes can invigorate a space by transforming how the glass looks. Designs, opacity levels, and patterns can all come from glass finishes.
Minor Details
You can add elements of texture in a number of minor places. These little pops of texture can catch the eye or add elements to a kitchen that are often taken for granted. Cabinet knobs, sink fixtures, and moulding are great places to add a bit of detail that can go a long way.
To discuss bathroom or kitchen remodeling options that would be best for your home please contact us at (718) 273-6233 or visit our showroom at 711 Port Richmond Ave., Staten Island, NY 10302.