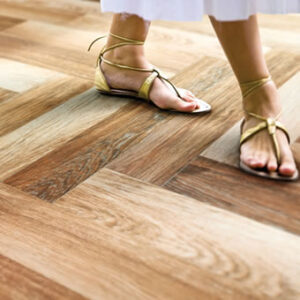 For your next kitchen or bath renovation, experience the warmth and beauty of wood with the resilience of tile. With wood-look tiles, you can achieve the look you want with no risk of the water damage can come with wood floors. The tiles won't warp, and there's no risk of water or termite damage. With tiles, you can also get heated floors.
Zen bathrooms are in style, and these designs feature warm, natural wood, whether it be flooring or backsplashes. Although the tiles are imitation wood, it tolerates the moisture of a bathroom while looking like natural wood. With natural wood, there is a chance that it will warp from the moisture.
Tiles can cost a few more dollars per square foot, once grout and installation costs are factored in. However, certain wood floors can cost more, based on the wood type. Smaller grout lines help the wood-look tiles look more like natural wood. Just like with regular wood, the tile finishes will usually have variations, so that they do not look uniformly perfect. This enhances the look of the wood design by keeping it close to the look of real wood
To discuss bathroom or kitchen remodeling options that would be best for your home please contact us at (718) 273-6233 or visit our showroom at 711 Port Richmond Ave., Staten Island, NY 10302.