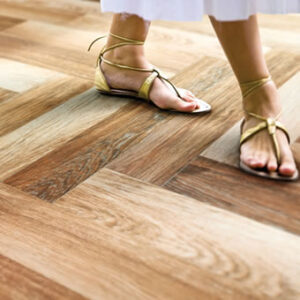 In your next kitchen or bathroom remodel, get the warmth and beauty of wood with the resilience of tile. Many people love the look of wood floors in a kitchen or bathroom, but do not want to risk the water damage. With tile, there is no risk of warping, water or termite damage; and tile works more efficiently with radiant heat floors than wood.
Many zen bathroom designs utilize wood backsplashes or floors to add to the natural feel of the room. While the imitation wood is not as natural as wood, it holds up to the moisture of a bathroom much better than actual wood. Tiles will not warp from the amount of water in a bathroom.
Modern kitchen designs often go with dark colored woods to make the kitchen feel less hot. The coolness of tile, along with a dark wood design can add to that effect and play into the decor of the room seamlessly.
Tiles can cost few more dollars per square foot, once grout and installation costs are factored in. However, certain wood floors can cost more based on the wood type. Smaller grout lines help the "wood" tiles look more authentic. Just like with regular wood, the tile finishes will usually have variations, so that they do not look uniformly perfect. This enhances the natural beauty of the wood design by keeping it as close to how real wood looks.
To discuss bathroom or kitchen remodeling options that would be best for your home please contact us at (718) 273-6233 or visit our showroom at 711 Port Richmond Ave., Staten Island, NY 10302.