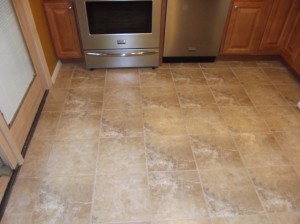 Choosing the best flooring for your kitchen can be an overwhelming task. It's a major part of your room, and it affects every other part of your designing plan. The materials and textures of the room will work coherently to tie the room together.
Tile is typically the best option for families with young children or pets. Tile can withstand spills, and doesn't absorb odors or bacteria that would arise in your kitchen. With tile's durability, it could be uncomfortable to stand on for extended periods of time, and any dropped glassware would most likely break on impact.
Wood is a common choice for kitchens for various reasons. It's comfortable to walk on, and will match with almost any kitchen design. The wood is durable, resulting in a longer lasting floor.
Pergo Laminate is well known for its elegant style, and multiple layers. These layers fuse to mimic wood flooring. The cost is much cheaper than hardwood, and has the same durability and resistance.
Cork is also a great option, as it's softness and springiness makes standing for extended periods of times a bit easier on your feet and back.
Bamboo is an up-and-coming floor trend, as it is ecologically friendly and shares a lot of the same qualities with wood flooring. This material is slightly more resistant to stains and damage than hardwood.
Choose from any of our luxurious floor designs at Dream Kitchen & Bath. To discuss bathroom or kitchen remodeling options that would be best for your home please contact us at (718) 273-6233 or visit our showroom at 711 Port Richmond Ave., Staten Island, NY 10302.