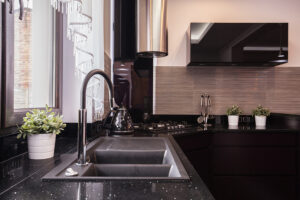 Countertops are an essential part of any kitchen. It's tempting to pick a countertop solely on looks alone, but it's important to consider the maintenance, cost, and durability of the counter. Luckily, we have provided the most popular countertops, as well as their pros and cons.
1. Granite- The top choice for countertops, Granite is available in many different shades, including white, black, beige, green, gray, and more. Granite can survive spills, heated pots, and more. A con is that Granite requires periodic sealing for stain protection.
2. Quartz- Quartz is a blend of various stone chips and pigments. It's available in various shades and colors to mimic stone. Quartz has a lasting durability and does not have to be sealed for protection.
3. Solid Surfacing- Solid surface countertops are a man- made mixture consisting of mostly marble and plastic pigments.
4. Carrara Marble- This is the cheaper option between the two marble countertops. Marble leaves your kitchen with a soft, trendy vibe. One downside to marble is that if it's not kept in pristine condition, staining and etching will occur within the marbles veining.
5. Stainless Steel- This type of countertop is mainly popular with chefs or people who love to cook. Steel is one of the most sanitary types of counters, and have been noted nearly indestructible. They cannot burn or rust, and are impervious to stains. While they are quite durable, pots and pans are likely to scratch the steels surface.
6. Silestone- This stone is made of natural quartz crystals. It is stain resistant, and doesn't require any sealing or maintenance. One drawback is that Silestone is more expensive than Granite. You can expect to pay $50-$100 per square foot of Silestone, whereas Granite is usually sold between $5 and $20 per square feet.
Choose from any of these luxurious countertops at Dream Kitchen & Bath. To discuss bathroom or kitchen remodeling options that would be best for your home please contact us at (718) 273-6233 or visit our showroom at 711 Port Richmond Ave., Staten Island, NY 10302.