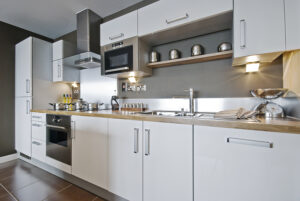 There are so many factors that you must consider when making decisions about your kitchen renovation. Most kitchen needs include storage, space, dining areas if you wish to have an eat-in kitchen, and of course decor. In order to start your kitchen renovation, you need to know what you need out of your kitchen. Budget, layout, lighting, and what you can make out of the space you have, are all important factors that need to be decided before getting started.
Before choosing materials for your kitchen renovation, you should create a budget. Figure out what areas of the kitchen you are willing to spend more money on and what areas you would like to save money on.
Your new layout all depends on the size of your kitchen space. If you have a small kitchen, we can sit down with you and come up with layouts to maximize space and storage. You may want to add space to your kitchen by taking away from another or taking down a wall. These architectural decisions can all be made with the help of your Dream Kitchen and Bath contractor.
Lighting is important in a kitchen, from natural to artificial. Light fixtures can complete your new kitchen design, as well as window placement. When choosing light fixtures, think about your kitchen design. And when making window decisions, consider cabinet placement.
To discuss bathroom remodeling options that would be best for your home please contact us at (718) 273-6233 or visit our showroom at 711 Port Richmond Ave., Staten Island, NY 10302.