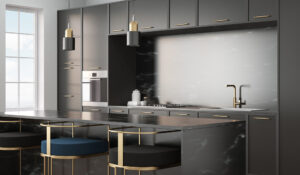 Traditionally, darker colors like black or chocolate brown should be avoided in smaller kitchens; because they make the space feel smaller. But by designing around this fact, you can get the color you want without making the room feel cramped. Designing a smaller kitchen with dark cabinetry give you a unique and stunning space; if done correctly.
Natural Lighting
The easiest way to make a space feel bigger is natural lighting. Windows, skylights, and solar tubes can help enhance the brightness of the space, cut down on electricity costs, and make the room feel more open. Skylights and solar tubes are often very helpful in small kitchens because they d not take up much needed cabinet space.
Glass Doors on Cabinets
Glass doors in the cabinetry adds depth and makes the room feel a bit more spacious. While glass cabinet doors are often used with lighter colors, they can still have the same effect. Glass doors give you an added visual length to the room of about a foot of distance. If you do not like having the contents of your cabinets on display, consider frosted or etched glass. This will add designs to the space, while still adding some depth; and keeping things lighter.
Open Shelving
Open shelving takes the concept of glass cabinet doors a step further, by clearing out some extra space and opening up the area. By pairing dark-colored open shelves with a lighter backsplash, you can create visual transitions that separate the space. You do not need to have only open shelves or only cabinets. By interspersing the two, you can still have the storage space you need, while keeping the room open.
Add Contrast
White and black go together well for a reason. Offset the dark cabinetry with a lighter backsplash and countertops. This will add contrast and depth to the kitchen. Lighter areas will also reflect more light, making the space seem brighter.
To discuss bathroom or kitchen remodeling options that would be best for your home please contact us at (718) 273-6233 or visit our showroom at 711 Port Richmond Ave., Staten Island, NY 10302.