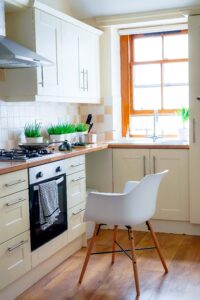 Not all homeowners have new cabinets designed for every kitchen renovation. There are a number of ways to upgrade your already existing cabinets. Upgrading cabinets in this manner can save you money for the renovation. Cutting costs this way can allow you to use those funds for the rest of your remodel.
Paint
Paint colors can revitalize your old cabinets and can drastically change the way the room looks without breaking the bank.
Remove the Doors
Taking off the doors from your cabinets can add depth to the space. When the doors are removed, cabinets can look surprisingly different.
Changing the Doors
If you are not changing the cabinets, you may want to consider creating or buying new doors for the cabinets. Altering just the doors can cost a lot less than reconstructing the entire cabinetry.
Add Molding
Consider adding molding to where your cabinets reach the ceiling. This can bring strong visual elements to your kitchen space, without adding much to the final costs. Alternatively, if there are no doors on the cabinets, consider adding a molding to the inside of the cabinet. This will add a strong visual break while keeping the same level of depth to the cabinets.
Add Undermount Lights
Lights built into the cabinetry can be a great help in the kitchen. By adding them to your pre-existing cabinets, they will seem less refurbished, and more modern. Undermount lighting for cabinets can be inexpensive and incredibly helpful while cooking or doing prep work.
To discuss bathroom or kitchen remodeling options that would be best for your home please contact us at (718) 273-6233 or visit our showroom at 711 Port Richmond Ave., Staten Island, NY 10302.