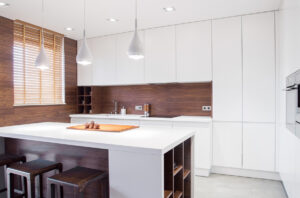 A backsplash in your kitchen does a lot more than protecting the walls from food messes. A good backsplash can add color, flair, and depth to the room. While they do protect the walls above the countertop from water damage and food splashes, the most important thing about a backsplash today is a beautiful look. What are some unique and beautiful backsplash designs that could fit your home?
Mirrors aren't just for your bathroom vanity. Great for smaller kitchens that need depth, mirror tiles can reflect light and make a space seem larger. Best paired with lighter countertops, this design goes beyond what a traditional backsplash has to offer.
While often used in ceiling design, ornamental tin sheets add texture and design. These tin sheets come with patterns in them, often floral or geometric. The tin can reflect some light as well. The biggest selling point to using tin sheets is the price point. It is one of the most budget-friendly backsplash choices.
Chalkboard paint is one of the best options for a home with kids, but fits in any kitchen. Chalkboard paint is a coating of usually black paint that is meant for chalk to be used on it. Write recipes or notes in chalk on the wall, or have your kids doodle on the walls. All you need to do to change it up is to wipe it away and draw again.
Wood backsplashes work best in kitchens without wood or faux-wood laminate flooring. The use of wood in the backsplash in it's natural color creates a beautiful, rustic look. Painted wood can bring just about any color or combination of colors to your walls. Wood panelling vertically or horizontally are the more common layouts, but zig-zag patterns, such as herringbone, can be eye-catching.
To discuss bathroom or kitchen remodeling options that would be best for your home please contact us at (718) 273-6233 or visit our showroom at 711 Port Richmond Ave., Staten Island, NY 10302.