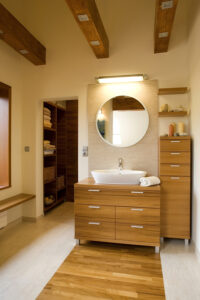 Your bathroom should be a luxurious getaway; it can be a place that promotes relaxation. Dream Kitchen and Bath can transform your bathroom into a spa-like oasis. Here are some easy-to-follow trends that can get your ideas for your new bathroom flowing.

Transforming your bathroom into a spa can be easily achieved with a hint of nature. Natural woods, small pops of earth tones, and plants can easily get you the zen look you've been wanting for your bathroom. You can incorporate natural wood into your design by installing a honey oak built in for storage, for example. You could also use natural wood to replace your existing cabinets, if you're not looking to add a built in.

Lots of natural light in your bathroom will brighten up the space, and make it feel bigger. Adding bright light fixtures around mirrored areas of the bathroom will make the space brighter, as well. This also helps with daily activities such as shaving and applying makeup. The more light, the better. You may also consider using candles in your bathroom; natural light is the best light.

Lastly, installing a vanity in your bathroom can benefit you in many ways. If you're renovating to sell, a built in bathroom vanity can add value to your home. If you're renovating to stay, vanities can create a luxury feel. Lit vanities can also add to the room's lighting, and give you a designated place to get ready in the morning.

For more information about transforming your bathroom, contact Dream Kitchen and Bath at 718-273-6233.