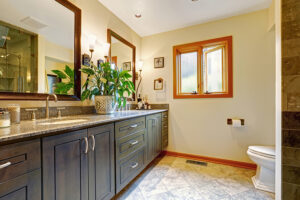 With Spring comes the pressure to maintain a clean household. After deep- cleaning, you'll probably want to keep your space as functional and organized as possible. Read below for a few of our best tips to keep your bathroom clutter-free.
1.Install shelves- Especially if you're short on floor space, shelving can provide your bathroom with some extra storage. As well as being practical, shelves can also act as decor. You can style them with a few accessories such as candles, photos, and artwork to add personality.
2.Side tables- In addition to shelving, side tables are also multipurpose pieces. You can hide stacked towels and extra bathing necessities inside the table, while decorating the top.
3.Lazy Susan- Try adding a lazy Susan to your bathroom or linen closet. With a very simplistic look, they can be easily rotated around whenever you need something specific, and you don't have to worry about crashing everything else over.
4.Draw dividers- Restrict your top drawers to only the products that use more often than not. These dividers can simplify the search for the makeup you need while keeping your space organized.
5.Counter trays- Counter and vanity trays are a great option for when you like your products visible, but in an organized manner. These trays can even be used to store accessories or candles.
An organized bathroom is more relaxing and sanitary. Organizing your space will help keep it clean, and of course maintain an aesthetically pleasing atmosphere. If some parts of your bathroom are just impossible to keep clean, consider a Spring bathroom renovation. To discuss bathroom or kitchen remodeling options that would be best for your home please contact us at (718) 273-6233 or visit our showroom at 711 Port Richmond Ave., Staten Island, NY 10302.