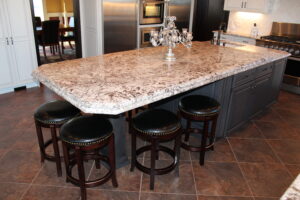 Just like anything else, kitchen trends will come and go. The only difference is that it's not particularly as easy to switch a trend after an entire kitchen has been renovated. Continuing reading for a few popular kitchen trends that aren't leaving anytime soon.
Glass front cabinets have been a staple in traditional and modern kitchens. Not only are these cabinets great for adding depth to your kitchen, making it seem larger, but they are an elegant touch to any room. Since the doors are transparent, the cabinet shelves are great to use for storing decoration, or fancier china.
Marble and marble-like countertops have been used as decor for centuries. These counters are heat resistant, which makes them popular amongst chefs and bakers. Depending on the type of marble, it can be cost-effective. Carrara marble, a gray color with softer veins, is usually the cheapest alternative. If you're opting for a more luxurious stone, Calacatta marble offers more dramatic veining with a whiter surface.
Kitchen islands have also been trending for quite some time. Especially with an open layout design, counter- height islands are more inviting and practical. It creates more of an open space within the kitchen, which encourages interaction. The extra counter space is great for hosting and entertaining.
Choose from any of these luxurious designs at Dream Kitchen & Bath. To discuss bathroom or kitchen remodeling options that would be best for your home please contact us at (718) 273-6233 or visit our showroom at 711 Port Richmond Ave., Staten Island, NY 10302.