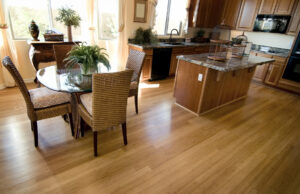 The kitchen is the most popular room in the house. You're always cooking, cleaning and eating with family and friends there, so it has to be looking its absolute best. Choosing the style of your kitchen floor can essentially come down to two options — tile flooring or hardwood floors. At Dream Kitchens and Baths, we design exquisite and upscale kitchens. With our help, you will have a kitchen that will be the envy of all of your friends.
Hardwood floors in the kitchen look amazing when done. They give off a sophisticated, clean and rustic ambiance to the setting of your kitchen. Hardwood floors in your kitchen can also increase the overall value in your home. There are endless options of wood that can be installed in your kitchen: Ash, walnut, and mahogany being just a few examples. Maintaining your hardwood floor is a breeze; vacuum and dust regularly, and clean using a microfiber cloth. Try to avoid heavy cleaners that can damage and discolor the floor. Placing area rugs underneath the sink/dishwasher area, help to prevent possible moisture damage to the floors. Hardwood floors are a more modern style in kitchen floor designs and is a rising trend.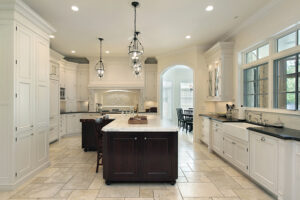 Tiles are the standard and classic flooring of choice for the kitchen. With many different style options: cut, color, and design, you cannot go wrong when choosing tiles. Tiles offer your kitchen a polished and neat look. Tiles, like hardwood floors are easy with maintenance, but unlike hardwood flooring, there wouldn't be any moisture concerns that could cause damage to the tile.
Whichever style of flooring you choose, it will definitely leave a stylish impact on your kitchen.
For more information on kitchen design and flooring installation, please call our office at (718) 273-6233.