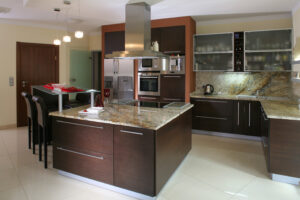 Super Bowl Sunday is approaching! This means that people will be raiding the kitchens of relatives and friends for the second one of the biggest food consumptions days of the year. Considering the large amounts of food and guests, a multi-functional and visually pleasing island transforms your kitchen into a social space. An island allows face to face interaction while cooking or preparing food.
A central island continues to be a popular addition to kitchens all over. The size of your kitchen will determine the best and most effective island design plan. With a larger kitchen plan, the island can include stove and range fixtures. This enables a person to cook a meal with access to view the room 365 degrees. Larger islands can also be used as a breakfast bar, which is convenient for quick meals. You also have the option of adding other appliances to your large island, such as an additional sink, built in microwave, oven, or small wine fridge.
For a smaller kitchen an island provides a great area for extra storage. Your island can have extra drawers and cabinets for cookbooks, pots and pans, utensils, etc. When adding a small island, you won't have to worry about relocating appliances.
Small or large, kitchen islands can add convenience to your kitchen. Extra storage, additional appliances, breakfast bars, and a better view can be yours when you install your new island.
To discuss the island design plan that best suits your kitchen stop by our showroom at 711 Port Richmond Ave or contact us 718-273-6233.