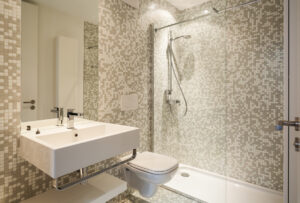 Keep up with the times and spruce up your ordinary bathroom this season. The smallest renovation can transform the space and add value to your home. Let the professionals at Dream Kitchen and Bath help you redesign and update your bathroom to create the space you've always wanted.
There are so many different style and function options to choose from for your bathroom renovation. Start with a color scheme. Once you have determined what kinds of colors you want in your space, it'll narrow down the various choices for counters, counter tops, and flooring. You can choose from several types of tile, natural wood, or even wood-look tiles. You may consider a small area rug, to add warmth to the room.
Instead of wallpaper, a fresh coat of paint can liven up the space. You could even add some design tiles along the walls, or as a backsplash for a modern feel. These trendy tiles look great and are easy to clean.
You may want to consider porcelain fixtures for your renovation. This type of fixture in your bathroom will add a striking element to the overall decor of the space. Stainless steel fixtures are another option can bring a modern and neat look to the atmosphere. These fixtures are also easy to maintain.
The professionals at Dream Kitchen and Bath will work closely with you to turn your thoughts into total visions when redesigning and styling your bathroom. We will work diligently to ensure the end result is to your liking. For more information on any of our services, feel free to give us a call at (718) 273-6233.