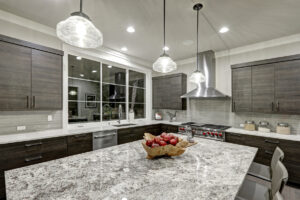 Most kitchens have a very stark and rigid design style; mainly due to box-shaped appliances and rows of shelves or cabinets. But what can you do to soften up these lines in your kitchen? The answer to this lies in creating beautiful and eye-catching focal points that add an elegance to the space. The best way to break up the harshness of kitchen lines is to add curved or rounded elements. Break up the harsh lines in a kitchen with these ideas.
Pot hooks add practicality while freeing up cabinet space. Displaying your pots and pans in this manner creates a visual contrast to the rows of cabinets or shelves. In a similar fashion, windowed cabinets for displaying your dishes works too. Windowed cabinets also make a kitchen seem larger. Wine glass rails can also be a good addition to the same effect.
Orb shaped lighting fixtures provide softer light and more evenly distribute light throughout a room. For area lighting or chandeliers, filigree-styled curvature can add an elegant and stately element while creating something that the eye can focus on instead of the normal lines of a kitchen.
Backsplashes are meant to be eye-catching. There are a few ways to create a stunning backsplash that softens up the room. Tiled backsplashes with designs on them can go above and beyond. Mosaic tile, whether glass or ceramic, designs can be an incredible focal point for your new kitchen. The colorful tiles and style of a mosaic backsplash is a good change from more traditionally patterned ones.
To discuss bathroom or kitchen remodeling options that would be best for your home please contact us at (718) 273-6233 or visit our showroom at 711 Port Richmond Ave., Staten Island, NY 10302.