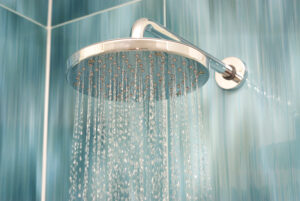 Your shower should be a place to escape. Whether you are washing away the troubles from the day, or getting ready to go out; you need a shower that does the job right. These upgrades to your standard shower set up will make your shower more enjoyable, morning or night.
Rain shower heads are wide and provide a downpour effect. This is supposed to be calming and create a more spa-like feel. They are usually mounted on the ceiling. More water is used with most rain showers, because the heads are wider and have more spouts.
Shower panels are powerful and jacuzzi-like set up. Multiple shower heads that can be opened or closed provide multiple centers of water pressure for a good clean feel. While there are pre-built panels available; custom ones can be made with multiple heads. As long as your pipes and water heater can handle the multiple heads; the water pressure on these styles can be incredible.
Aerating shower heads provide great pressure with less water. By mixing air with water, this shower head pushes out water with more pressure and less water. They generally cost more in installation, but you save more over time by saving water.
Many people have smart TVs, but smart shower heads? Bluetooth and Wi-Fi connected shower heads can connect to your cell phone. Play music, track water usage, and control LED lights to light up your shower. Smart shower heads can be a great upgrade. Some of these smart shower heads actually power the lights and speakers with turbines as the water shoots through.
To discuss bathroom or kitchen remodeling options that would be best for your home please contact us at (718) 273-6233 or visit our showroom at 711 Port Richmond Ave., Staten Island, NY 10302.