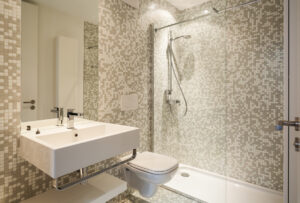 When renovating your bathroom, you might forget that a shower head is an important detail. The right shower head can change your showering experience. There are many different options to consider, from single function to multifunction, which can give you different sprays and variations. Rain heads simulate a summer rain and can include color changing lights to enhance the mood. Handheld shower heads have a hose extension and offer massage-like water streams. You can even go green and install a shower head that helps to conserve water without sacrificing style. Taking out some extra time to consider the ideal shower head for you bathroom can create the spa-like experience you've been looking for.
Basic shower heads start at about $10, but more elaborate models with many features can be found for over $1,000. An average shower head of good quality goes for about $150. Create a budget and consider the cost of installation.
Next, choose the finish of the shower head that matches the design you've chosen for the rest of the room. Options such as brass, pewter, stainless steel, bronze, chrome, gold, platinum, and nickel finishes are all available for your shower head. If you are getting a shower-tub combo, you will want to match the finish on both the shower head and the tub faucet.
Next, choose between a mounted shower head or a handheld shower head. Handheld shower heads are a great convenience and are especially good for bath time if you have young children or pets. They are also convenient for the elderly or the disabled, for easy access and control.
Multifunction shower heads include features such as full spray, massage, rain, mist, and jet sprays that allow you to set the water stream to your preference.
Whatever bathroom remodeling needs you have, Dream Kitchen and Bath is here to help. Contact us for your next remodel at 718-273-6233 or visit our showroom at 711 Port Richmond Ave., Staten Island, NY 10302.