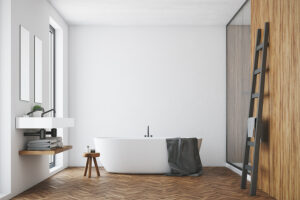 Scandinavian design style combines simplicity and utility with comfort and function. Homes and rooms that follow this trend make use of clean lines, natural materials, and the use of whites and neutral colors. They are often highlighted with lots of natural light. For bathrooms, Scandi-style takes the simple and natural aspects of spa-like decor to an even more minimalist level.
Beautiful Wood Design
Scandinavian style makes great use of natural materials like wood and stone. Wooden vanities, floors, walls, and more add natural warmth and comfort. Woods like white pine, ash, and beech are often used in this design style. These are all lighter colored woods that blend well with the white hues and darker neutral tones used in Scandi design.
Natural Lighting
In traditional Scandinavian design, natural lighting is a key aspect. While this may not always be an option when upgrading an existing space, making use of whatever natural light can be helpful. Consider using mirrors to enhance natural light in bathrooms with small windows. For more heavy duty projects, you may want to consider making the window space bigger, or adding a skylight.
Neutral Colors
Scandinavian style color schemes follow a soft blending of whites with cool darks and neutral tones. Colors such as charcoal or blue-grey are commonplace. Beige, soft browns, and light greys can often help blend the divide between the darker colors and the white hues. Pops of color can often come in the form of houseplants or accents such as a vase or an area rug.
Simple Lines
Scandinavian design makes use of simple lines and basic geometric shapes. Rectangles and squares are common in the design space. In more modernized or American versions of the style, bathrooms can often make use of subway tiles on the wall, which make use of these basic shapes while keeping the motif of white color in the space. The use of wood in these spaces also adds to these lines, as the lines made by planks can add another depth of these simple shapes.
To discuss bathroom or kitchen remodeling options that would be best for your home please contact us at (718) 273-6233 or visit our showroom at 711 Port Richmond Ave., Staten Island, NY 10302.