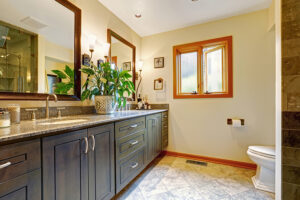 Liven up the look of your bathroom this summer with help from Dream Kitchens and Baths. We turn any ordinary bathroom into a setting with style.
There are an ample amount of trends that you can get inspiration from when remodeling your bathroom. One of the simpler trends is to change up the tile in the bathroom; tiles with distinct patterns or a pop of color instantly refreshes the overall look.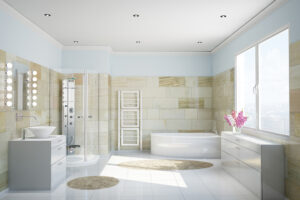 Marble, mosaic, and even wood furnishings in your bathroom add a polished and classic element to your bathroom. These types of furnishings not only look great, but are a breeze to maintain. Clear glass showers are also a big trend this year, as it serves as an additional classic and clean element to your bathroom.
Another interesting element of design to revamp your bathroom is to add plants anywhere in the setting. Whether it's a big potted plant in the corner or a small cactus perched on the sink, plants give off a modern and fresh flare to your bathroom.
Dream Kitchens and Baths gets any job done in a quick and efficient amount of time. With proper planning, you can have a newly updated and revamped bathroom in just three days.
These are just a few of the hottest bathroom trends for this year, so be sure to inquire us for more information on how we can help you remodel your bathroom. Call our showroom today to get more inspiration for your bathroom redecorating (718) 273-6233.