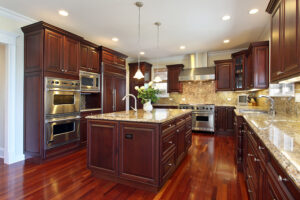 Kitchen lighting comes in all shapes and sizes; from chandeliers, to wall sconces. Recessed lighting is becoming more popular, for its sleek design along with growing performance of newer bulbs. In the past, recessed lighting was a way to trade quality of light for a smoother design. But with today's bulbs, there is very little difference.
Recessed lighting provides accent lighting when used in specific areas, and can provide full room coverage when used in groups. Under cabinets, or in rooms with low ceilings, recessed lighting can be a simple way to light the space without taking up space. It is also relatively simpler to install than most other lighting fixtures. Targeted recessed lighting can act like a spotlight for the workspace.
Lighting with recesses rather than one central light helps create more even coverage. There can be a better distribution of light throughout the room; from the stove, to the sink, to your prep station.
While chandeliers bring your eyes upward, recessed lighting won't usually attract attention. This gives a greater emphasis to the rest of the space. Recessed lighting also is almost always in the trends. While it comes and goes, it is never truly out of style.
To discuss bathroom or kitchen remodeling options that would be best for your home please contact us at (718) 273-6233 or visit our showroom at 711 Port Richmond Ave., Staten Island, NY 10302.