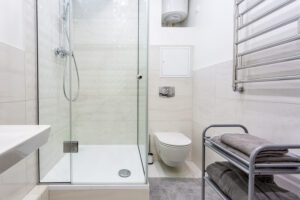 Wall-mounted toilets are growing in popularity for their sleek and sturdy, modernist style. While these stylish commodes can cost a bit more than your average potty to install, there are clear advantages and disadvantages here. To figure out if a wall-mounted toilet is right for your next remodel, we will explore the pros and cons of them.
Mounting
A wall-mounted toilet requires the tank to be built into the wall, and is installed in between wall studs for support. This can be difficult to place in some bathrooms, simply because of the placement of the studs. This can mean a more costly installation than a run-of-the-mill model.
Height is adjustable upon installation. Wall mounted toilets can be a good solution for taller residents, as you can determine the amount of space between the toilet and the floor below. Most municipalities allow between 15 and 19 inches of space between the floor and the bowl.
Space Saver
Wall-mounted models are usually more compact than a floor-mounted toilet. By installing the tank into the wall, you can save an average of 10 inches in front of it. This can be vital to keeping smaller bathrooms up to building codes.
Costly Install
Compared to a more traditional toilet install, a wall mounted toilet can be a decent amount more. Opening the wall is required for this, so it is better off to do this if you intend to change the whole design of the walls. Additionally, it can be difficult to match pre-existing tiles to fill in the space on the floor once occupied by a traditional toilet, so it is often a good idea to just replace it.
Cleaning
Wall-mounted toilets hover over the ground, and are generally sleeker than a traditional bowl. This helps make cleaning and bathroom upkeep easier. No more trying to get the mop in the space below the tank.
High-Efficiency
While most wall-mounted units are installed with a panel to access the plumbing in the event of a plumbing issue; most of these models are designed for high-efficiency. Many have strong, low-water flushes, to maximize efficiency. Some models will also have dual-flush systems.
To discuss bathroom or kitchen remodeling options that would be best for your home please contact us at (718) 273-6233 or visit our showroom at 711 Port Richmond Ave., Staten Island, NY 10302.