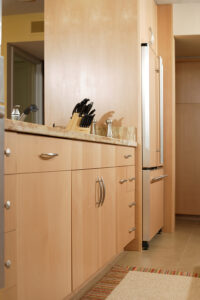 Wooden cabinets have been a mainstay in kitchen design for centuries, if not millennia. Wood is the classic choice for cabinetry because it just makes sense. And while the types of wood used in each may change, in the more recent years, most homeowners have been opting for painted or darkly stained cabinets. But more recently, there has been a surge in the use of natural wood for kitchens. Natural wood creates a beautiful, rustic look that adds warmth to the space.
The most common natural wood choices are maple and cherry. Maple is a lighter colored wood; and it has even, smooth grains. It is very durable, and relatively inexpensive. Cherry is darker, with rich red tones. Cherry wood is more likely to show knots in the grain, but to some, this adds to it's natural charm. Cherry wood is also very durable, and is stronger in most cases than Maple.
In most cases, but especially with Maple and Cherry, natural wood pairs well with stainless steel appliances. Dark and light countertops alike look great while paired with natural wood.
To discuss bathroom or kitchen remodeling options that would be best for your home please contact us at (718) 273-6233 or visit our showroom at 711 Port Richmond Ave., Staten Island, NY 10302.