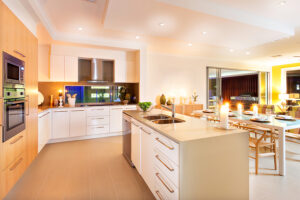 If you bake a lot, your kitchen redesign should work to make it easier for you. There are a number of upgrades you should consider for new kitchen to better your baking.
Marble is king when it comes to baking. Whether you are making pastries, chocolates, or even bread; marble is known to be the best material to prevent sticking without the need for added flour. Marble is a beautiful, natural countertop choice as well.
Double up on ovens. Dual ovens can give you more baking space, and can be great for when you have to bake two items at two different temperatures. Dual ovens are also usually mounted at more of an eye-level; which reduces back-strain while working in the kitchen.
A tall but narrow roll-out drawer is a great upgrade for your cookie sheet and baking pan storage. This minimizes the space that they take up while also adding ease-of-access.
Open shelving for cookbooks and baking essentials like flour and sugar add both function and decor. Wall hooks for hanging bread boards, rolling pins, and cake molds can add character to the room while filling negative space and saving room for storage.
Switch out your spice rack for a spice drawer. With a top-down view of your spices, always at arm's reach; this convenient upgrade is perfect for keeping all of your essential spices organized and ready for use.
To discuss bathroom or kitchen remodeling options that would be best for your home please contact us at (718) 273-6233 or visit our showroom at 711 Port Richmond Ave., Staten Island, NY 10302.