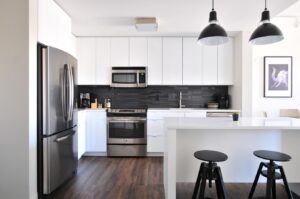 A recent survey from home design idea website Houzz led to some interesting insight into renovations from homeowners nationwide. The survey delves into the changes that homeowners like you looked for this year.
Major Changes
In terms of major overhauls for a kitchen, most homeowners moved towards opening their kitchen space to the rest of the home. 51% of renovations included changes that made the kitchen more open to other rooms. 36% increased the overall size of the kitchen. 20% of kitchens were opened up more to the outside. This may include bigger windows, the addition of doors, etc.
Countertops
What were the most common countertops? 41% of renovations added granite countertops to the space. The second most used countertop material was engineered quartz, with a close 40%. The next highest was only 9%, for butcher block and/or wood slab. This wood material is often used in sections of a kitchen, and not overall, which explains the limited percentage. But it seems like granite and quartz are here to stay.
Walls
With new innovations in heat and stain resistant paint, it's no surprise that paint is the number one wall finish in new kitchens this year, at a staggering 72%. Ceramic and porcelain tile is next at 34%, and then marble at 5%. Discrepancies may suggest the mix of paint with tiling for the walls for a unique personal style.
Add-Ons
41% of homeowners chose to add on a pantry to their kitchen space. 40% added an island to the room. Breakfast nooks were added into about 23% of kitchens this year. These three design choices continue to be essential to kitchens nationwide, and are generally a good choice to add if the space and budget will allow. Pantries, islands, and breakfast nooks are good ways to raise the property value of the home during a renovation.
Flooring
Hardwood was the flooring used in 31% of the renovations. At a close second, ceramic/porcelain tile came in with 30%, up from 23% last year. Engineered wood was the third most common flooring option, with about 12% of homeowners deciding on that option.
Replacing Appliances
The number one appliance replaced this year was the dishwasher. 79% of renovations included the removal or addition of a dishwasher. Also high on the list included the refrigerator, microwave, and range.
To discuss bathroom or kitchen remodeling options that would be best for your home please contact us at (718) 273-6233 or visit our showroom at 711 Port Richmond Ave., Staten Island, NY 10302.