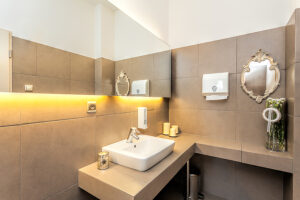 The Mediterranean region inspires much of our modern culture. From ancient Greek civilization, to a wide variety of cuisines. When you think Mediterranean-style decor, many people think of the sun, the sand, the sparkling sea, and the colorful culture. But what can this mean for your home? One place the wonders of the Mediterranean inspires American culture is in design style, especially in the bathroom. A Mediterranean inspired bathroom brings the beauty of the region to your home.
Mediterranean decor blends colorful jewel tones, deep blues, and earthy shades. These are often contrasted with whites or yellows to produce elegant saturation and a bright color scheme. This color style adds natural beauty to a space in an incredible way.
Texture is an important quality in this type of design. Texture on the walls is a way to add drama, depth, and beauty to the space. Stucco and raised plaster, as well as 3-dimensional tiles can add this level of design.
Terracotta and limestone are huge in Mediterranean style. Often featuring striking, hand-painted designs, these tiles add an old world feel, while still bringing together the modern look. Arabesque-shaped or Moroccan-inspired tiles are often a common choice by homeowners looking for this type of design.
Windows are important in the design of a Mediterranean style bathroom. In many cultures of the region, there is a flow between the indoors and outdoors. There should be a continuity between the room and what is outside. As such, many homeowners look towards the use of larger windows, skylights, and an overall increased use of natural lighting in these rooms.
Accenting the room with Mediterranean flair brings it all together. Tapestries, art pieces, and colorful textiles can complement the other decor choices while bringing aspects unique to your very own bathroom. As for the fixtures in the room, many Moroccan and Mediterranean bathrooms feature wrought iron. It is used for light fixtures, pull bars, towel racks, and more. Curves and soft edges are much more common in Mediterranean design than corners are. Look for curvatures in design, especially in the use of the wrought iron fixtures; as well as the tub, shelves, and even the windows.
To discuss bathroom or kitchen remodeling options that would be best for your home please contact us at (718) 273-6233 or visit our showroom at 711 Port Richmond Ave., Staten Island, NY 10302.