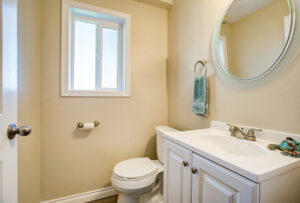 Often in Staten Island, half bathrooms in our homes will feel relatively cramped due to design space when the home was designed. Small bathrooms and powder rooms are a characteristic seen all across most of the island. But what can you do to make these rooms feel less cramped. During your next remodel, consider these upgrades that can make your small bathroom space feel more spacious.
Serene colors make you feel less cramped by creating the illusion of more space. Cool-feeling colors, like pastels and neutral tones can help create this feeling of calm and add a sense of openness to the room. This also applies to the floor and ceiling. Lighter colors will open the space up, while darker colors will tighten the space up. Crown molding around the ceiling can add depth and make the room seem taller. For the best results, the molding should be painted the same color as the rest of the ceiling.
Vanities can be beautiful in any bathroom, but can be bulky in smaller rooms. Pedestal or wall-mounted sinks take up minimal floor space; but at the cost of storage space. If your bathroom can afford losing the additional storage that a vanity would provide, you should consider one of those sink options.
Lighting can really make a space seem bigger. Wall sconces add warmth and accent lighting. If possible, consider adding a window or skylight. Natural lighting from outside adds softer light, which helps widen a space. A bigger mirror over the sink can help the bathroom lighting seem brighter, while also creating the illusion of a larger room in general.
To discuss bathroom or kitchen remodeling options that would be best for your home please contact us at (718) 273-6233 or visit our showroom at 711 Port Richmond Ave., Staten Island, NY 10302.