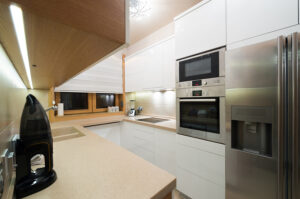 Small kitchens can make a big impact in a home. A small kitchen gives you a cozy space to cook and prepare meals. When redesigning, it is important to make the most of your kitchen space. There are many styles and design options to utilize your small kitchen space in the best way possible.
Wrap-around shelves create an open look and provide great storage throughout the room. Closed cabinets can be overbearing in some small kitchens; but shelves can provide a good balance between openness and storage. Glass shelves can provide functionality while evoking a more spacious feel. Inlet shelves can make the space physically larger and add depth.
Stainless steel surfaces reflect light well and can create the feel of a larger room.
Backsplashes can provide another realm of depth in a small kitchen. Contrasting black and white checkering or lines on the backsplash can add a three dimensional layering to the room. A mirrored backsplash forms an illusion that the room is wider than it is.
Shadows can make a space seem smaller. Adding area lighting can retract shadowing that can make a room seem smaller. Lighter colors on the floors and ceiling can make the room feel bigger.
Electric stovetops that are separate from the oven can give you more storage space while reducing the space taken up by large appliances. When choosing an oven, a wall-mounted unit can bring the stove to a higher level and reduce the size needed. The oven window at a higher level provides a reflective surface to make the room seem bigger. Smaller ovens will use less gas/electricity to get to various temperature levels. This can save you money on utilities in the long run.
To discuss bathroom or kitchen remodeling options that would be best for your home please contact us at (718) 273-6233 or visit our showroom at 711 Port Richmond Ave., Staten Island, NY 10302.