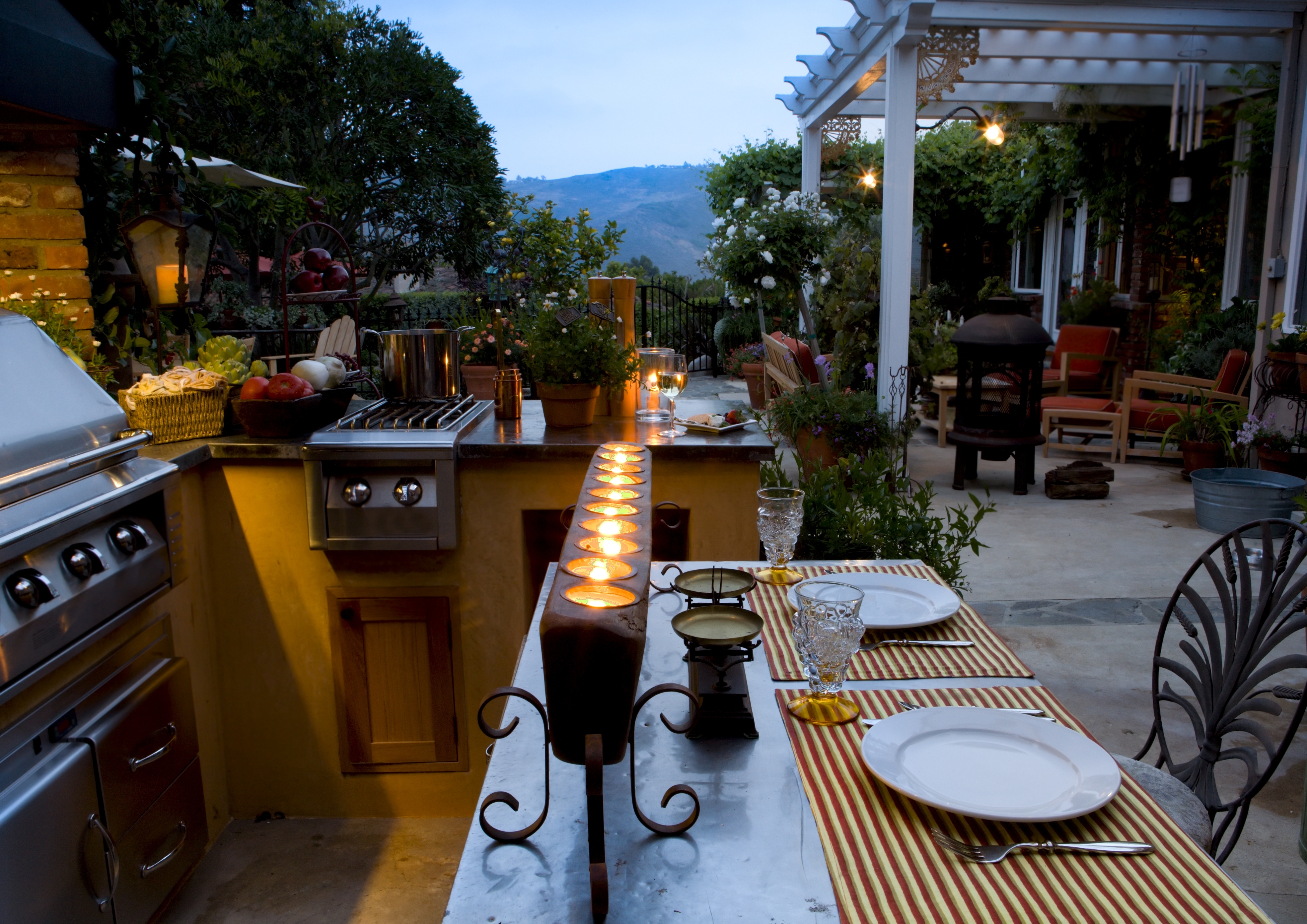 Hosting an outdoor barbecue is a great American pastime, and nothing makes this pastime more convenient than having a dedicated outdoor kitchen. If you are installing a deck or a patio, or if you already have one, converting it into an outdoor cooking area is a great way to expand your home.
Almost anyone can create a simple backyard eating area with a portable grill, and a set of rugged chairs and tables designed for outdoor use. But if you really want to streamline the process and wow your guests this summer, consider letting us help you design an outdoor kitchen. Depending on your available space and your budget, these outdoor cooking and eating spaces can have the same functionality and beauty of an indoor kitchen and be used throughout the warmer months.
The first thing to consider is how much space you have available to work with. Every cooking area should be efficient, but this is especially important for smaller ones. Where you place your grill is important since it needs ample space away from foot traffic to be safe and efficient, and it needs good ventilation so the heat and smoke doesn't bother your guests or blow into indoor spaces. Next, you will need to choose materials for flooring and countertops that will resist the harsher conditions outdoors. Bear in mind that certain materials become slippery when wet. Materials that become slick should be avoided, rain, splashes, and spills are a fact of outdoor life!
There are many different kinds of outdoor appliances and fixtures available today. From simple outdoor cabinets, to sinks, stoves, and even refrigerators! Naturally, many barbecues continue into the evening hours so you will need adequate outdoor lighting as well. The amount of space you have will directly affect how many of these conveniences you can install in your new outdoor kitchen. The same rules for making an effective indoor kitchen also apply here. Unless your outdoor kitchen is very big and self contained, you will have to use your indoor and outdoor kitchen in tandem. We will utilize the same skills we do in kitchen design and renovation to maximize efficiency in any cooking and eating space whether it is inside your home or in your backyard.
Call us today at 718-273-6233 for help with all your kitchen design and remodeling needs.