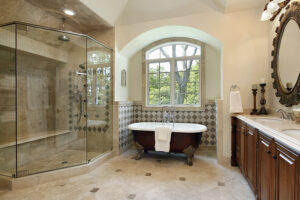 Large bathroom spaces can be amazing and luxurious places to relax; if you know how to use the space. When the space is left without being properly used, it can make the room feel colder and uninviting. There are a number of ways to utilize the space more to give you a more relaxing, spa-like bathroom.
A great way to use more of your bathroom space is to have a separate tub and shower. This is very common in bathroom design today. Separating the tub from the shower also gives you more freedom to resize the shower. Larger showers are more inviting. Add a built-in shower bench and shelving to the shower, for both convenience and comfort. For the tub, standalone models, especially clawfoot ones, add luxury and elegance to the bathroom space.
Fireplaces bring warmth and lavishness to a bathroom space. A gas fireplace can be a great way to fill the space, and make your bath-time relaxation feel cozier. Nothing says "unwind after work" quite like a nice bubble bath and the flickering light of a warm fireplace.
Go beyond simple floor mats or bare tile floors. Area rugs with beautiful and intricate patterns can make a large room feel cozier by drawing your eyes lower to the ground.
Tuck away the toilet with it's own space, whether you incorporate full or half walls. This affords the user more privacy, and can hide the less elegant part of the bathroom. If you decide to go with a full wall, consider closing off the space with a door.
A nylon upholstery couch or divan can be a great way to add an extra element to the room. Nylon upholstery is generally regarded as water-resistant, so the material is good for furniture in high humidity areas like a bathroom.
To discuss bathroom or kitchen remodeling options that would be best for your home please contact us at (718) 273-6233 or visit our showroom at 711 Port Richmond Ave., Staten Island, NY 10302.