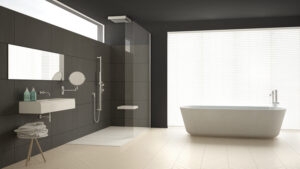 The traditional design of a shower drain stems from the bathtub, a circular drain that is at the bottom of a slight slope. But when many homes are separating the tub from the shower; this drain style is less necessary. Homeowners are moving towards the use of linear shower drains. A linear shower drain is a rectangular drain that follows a length of the shower space in order to maximise the collection of wastewater to be more efficient than the traditional circular drain.
Linear shower drains are more aesthetically pleasing. The general design of a circular drain is simple, without a lot of design innovation. But the nature of the linear drain allows for a design tailored to accent the design and color scheme of the rest of the room. There are a number of drain cover designs that allow for you to have a large number of choices, so you can get your dream bathroom. These drains can be more easily built into and installed within tile floors.
Linear drains are safer. Linear drains reduce the need for slopes in the shower space, which lowers the risk of slipping and falling. They are recommended for showers for the elderly and disabled because of this lower risk. Rather than sloping towards the drain in the center of the shower, a linear drain calls for a less steep slope targeted to an entire side of the space. The use of a linear drain also allows for a curbless shower, which is safer and more aesthetically pleasing.
To discuss bathroom or kitchen remodeling options that would be best for your home please contact us at (718) 273-6233 or visit our showroom at 711 Port Richmond Ave., Staten Island, NY 10302.