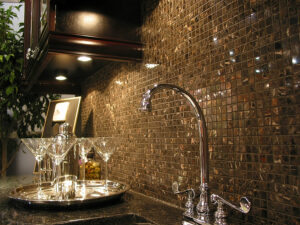 The kitchens of 2016 combine the high-tech upgrades to make life easier, with returning trends of of the 80's and mid-century. Modernized 80's trends blend metallic pieces and natural colors with high-gloss surfaces and mirrored backsplashes. The design style creates a space that looks and feels bigger and brighter with both soft and textured. The modern mid-century style brings the simplistic Nordic minimalist style of the 50's and 60's with white color palettes and light woods.
The 80's style of kitchens used plastic to meld with sleek and shiny surfaces. The revamped version drops the funky colors and plastic look for more modern earth-tones and metallics. The metals blend well with the sheen of glossy finishes, while the neutral colors create a perfect bridge between the two styles.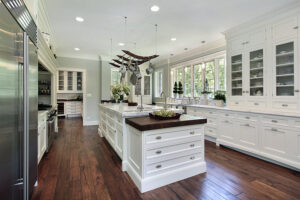 Nordic minimalism creates simple spaces with lighter colors to brighten the space with less lighting. Strong, resilient Walnut wood is a predominant feature of this design, whether in flooring, islands, or cabinetry. Whether glossed, painted, or stained, the wood is highly resistant to warping or shrinking. Nordic design is focuses on the simplicity of the space and it's functionality.
To discuss kitchen remodeling options that would be best for your home please contact us at (718) 273-6233 or visit our showroom at 711 Port Richmond Ave., Staten Island, NY 10302.