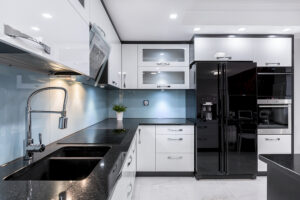 Fall is almost here, and as we enter the last few months of the year, we should look towards the future of home design and interior decorating. When you redesign your kitchen, especially to prepare it for the real estate market, you should consider these up and coming trends that are sure to be popular during 2018.
Granite is becoming less and less popular. If you still want the natural stone look, consider choosing quartz. It is natural, durable, and requires less maintenance than granite. Quartz is also available in a wider variety of color options and finishes.
A golden touch is one thing that many modern kitchens are lacking. Brass is making a comeback; even in small ways. From sink faucets to cabinet knobs, a bit of brightness and color from a brass feature can really make the space pop. For a bit more subtly in this aspect, consider brushed brass. This creates a more vintage, antique look; without losing out on the complete modern style.
Stainless steel has been the main choice for appliances for quite some time, but the use of black fixtures is on the rise. The addition of black appliances to kitchens can evoke a look of sophistication and add a bit more class to the space.
To discuss bathroom or kitchen remodeling options that would be best for your home please contact us at (718) 273-6233 or visit our showroom at 711 Port Richmond Ave., Staten Island, NY 10302.