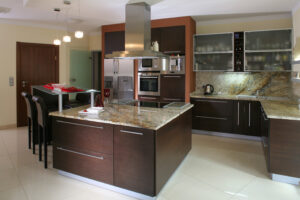 When renovating your kitchen, you may want to add in a range hood over your stovetop. A range hood is a ventilation system that sucks up smoke, odors, and moisture from the stove and pushes it out of the home through a built-in duct system. The other option many homeowners use instead of a range hood is a range fan, which disperses the smoke and odors. Which is right for your kitchen?
Installing a range hood usually requires more of a dip into the budget than a fan. The hood must be installed above your range, and a duct must be added to your home, The hood will channel cooking smoke and particulates out of your home and out of the roof via the duct.
Range fans disperse moisture and smoke from the cooktop. Rather than allowing smoke to build up in the kitchen, the fan helps to circulate the smoke and moisture around the room or to other parts of your home. The fan may filter the air, or simply disperse it. Range fans are usually more cost effective as they usually do not require ductwork. They also take up much less space in the kitchen.
Many microwaves that are meant to be suspended over a stove will have a range fan built into them on the bottom. This can help you cut don on costs and the number of add-ons to your kitchen.
Overall, a range hood is better at removing smoke and other particulates from cooking than a range fan. But the hood and it's duct can be an additional cost to your renovation. When planning out your renovation, decide if a range hood would be a good choice for your kitchen.
While most residential spaces are not required by law to include a range hood, some form of ventilation should be encouraged. Both range hoods and range fans help mitigate smoke inhalation and Carbon Monoxide build up in a home while cooking. For kitchens with stovetops built into the island, the range hood would have to hang down in the middle of the room, whereas a vent fan can be installed above.
To discuss bathroom or kitchen remodeling options that would be best for your home please contact us at (718)-273-6233 or visit our showroom at 711 Port Richmond Ave., Staten Island, NY 10302.