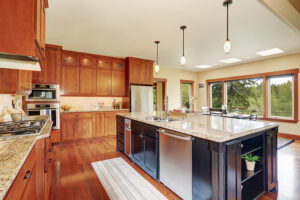 Statistically speaking, it is just as likely for a man to be cooking at home as it is for a woman to do it. Shifts in gender roles, and the popularity of cooking as a skillful, even competitive activity have helped push the design of the home kitchen into a more masculine design style. Males are beginning to take over kitchen design trends, and a lot of these new influences in the style of kitchens are becoming hot on the market in terms of resale value.
Men are more likely to spend more on appliances. Commercial ranges, bigger fridges, and commercial range hoods are often the choice for kitchens when picked by men. Males also will choose to add extra appliances more often than women. Males renovating a kitchen are more likely to add extras like a deep fryer, or a salamander (small broiling oven).
Adding a second sink is also a common choice made by male homeowners. One reason that these are more popular now is the idea of cooking as a couples activity. This is seen more in younger couples, but there is starting to be a higher demand for these appliances and installments in kitchens on the market.
In terms of cabinetry, the masculine influence in design trends has created more of a popularity of flat-fronted cabinets. For countertops, men often prefer a mitered edge, rather than more curved or bevelled styles that are more popular among female homeowners.
To discuss bathroom or kitchen remodeling options that would be best for your home please contact us at (718) 273-6233 or visit our showroom at 711 Port Richmond Ave., Staten Island, NY 10302.