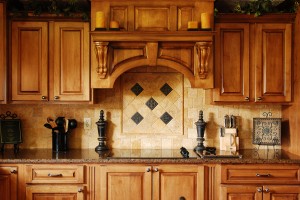 Cabinets tie the look of your kitchen together. They provide functionality while bringing additional design to the space. There are a few things to think about when it comes to choosing the perfect cabinets such as color, style, material, size, and hardware. You may also want to consider keeping your old cabinets, and just spruce them up.
-First, decide how big or small your cabinets need to be. This depends on the size of your kitchen, and how much storage you will need. There are many different cabinet styles that maximize storage, such as frameless European-style. Spice racks, Lazy Susans, and pull-out pantries are also options that will provide more storage, as well as organization.
-Next, choose from the wide variety of cabinet materials and styles. Woods can come natural, lacquered, painted, or stained. This is the step that will tie the design of the space together. Think about what kind of color scheme you would like, and choose the right materials for you.
-There are many trends when it comes to kitchen remodeling. For example, some people like to add windows to some of their cabinets to show off wine glasses. Light fixtures can be added to your cabinets to add extra light to the space.
Whatever cabinet needs you have, Dream Kitchen and Bath is here to help. Contact us for your next remodel.