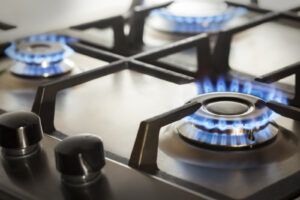 Ever wonder the difference between a gas stove and an electric stove? The decision between the two can make or break your kitchen. Lucky for you the professionals at Dream Kitchens and Baths SI are here to help you through the process.
Gas Stoves
Many people love traditional gas stoves due to the effectiveness and visual fulfillment of a flame. One pro of using a gas stove is the effectiveness of a flame cooking your food. The spreading of the flame around the bottom of a pot or pan leads to a more even and efficient cooking experience. The overall cost of having a gas stove is also much lower if your home already has a gas line through your kitchen, however if you do not, the installation of one may be a little pricey.
Electric Stoves
One of the biggest pros of owning an electric stove is the sleek and modern design. Most will have a smooth top to make it look modern and hip for a new era kitchen. They also are extremely easy to clean due to the fact that it is not several parts like a gas stove, instead it is just one easy wipe-down surface.
Even though an electric stove may look a little nicer, sometimes they are not as efficient. They are known to cook food much slower and sometimes less evenly if you stray from the hot spot, which is easy to lose due to the lack of a visual heat source such as a flame. They take longer to heat up and do not get quite as hot as a gas stove. Another con of owning an electric stove is the ability to lose use of it in a power outage.
An electric stove is much more convenient for beginners who want easy cleaning and low cost. However, for those who enjoy cooking; the effectiveness and visual appeal of a gas stove may be the right choice for your home.
To discuss bathroom or kitchen remodeling options that would be best for your home please contact us at (718) 273-6233 or visit our showroom at 711 Port Richmond Ave., Staten Island, NY 10302.