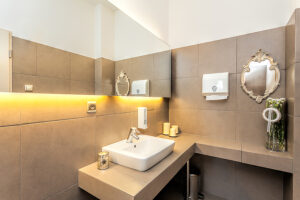 The kitchen and bathroom are often the first rooms in the home to be updated for an upcoming sale. But it is important to invest into the parts of the room that matter to potential buyers. The three selling points to a newly renovated bathroom are low maintenance surfaces, brightness, and energy efficiency.
Low Maintenance Surfaces
Materials and finishes that reduce cleaning and care can be a huge selling point for potential buyers. Marble can be a lavish upgrade, but it's general upkeep can make it less desirable for those looking to buy your home. Quartz can be a good middle ground; because it is still a high-end countertop, but with much less maintenance requirements.
It is also important that fixtures and faucets also follow this low maintenance philosophy. Brass can be a good investment. Brass faucets are durable and do not corrode as easily as others, and requires very little maintenance to keep it looking as good as new.
Glass shower doors are vital for a newer bathroom space, as most people are moving away from shower curtains. While curtains can be a cost-effective option, but most homeowners prefer glass doors. Make sure that the glass doors that you have installed have been treated with anti-spotting agents that will reduce upkeep and keep them looking clean for longer.
Bright Bathrooms
A bright, well-lit bathroom can be a big selling point for potential buyers. The brighter the room, the larger it will seem. Windows and skylights can be a great addition to a bathroom, and can add a lot of natural lighting to the space. Much like in a kitchen, lighting in different areas can be important. The vanity and shower should be especially well-lit. Reflective surfaces, such as mirrors or a glossy tile backsplash can help make the most of your lighting.
Energy Efficiency
Energy savings are one of the biggest selling points on today's market. The potential of saving money on utilities can be vital to closing a sale. Most home buyers will look to energy efficiency for both environmental and economic reasons. The first place to start is a tankless water heater. Low-flush toilets and low-flow faucets can reduce water use. Radiant floor heating will make use of your plumbing to heat the room. This can be especially effective with tile flooring.
To discuss bathroom or kitchen remodeling options that would be best for your home please contact us at (718) 273-6233 or visit our showroom at 711 Port Richmond Ave., Staten Island, NY 10302.