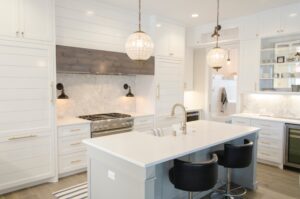 Selecting the perfect color scheme for your kitchen can be quite difficult, especially without a certain theme in mind. With a variety of materials to choose from, it may seem overwhelming.
Decide on a color scheme– Use color charts to determine which colors compliment each other, and which clash. Pick two dominant colors, and one accent color. The dominant colors should be simple and compliment each other. The purpose of the accent color is to tie the three together.
Start with the countertops- It is highly recommended that you choose your countertops first, as this is typically the focal point and base scheme of your kitchen. It tends to be easier to match cabinets and floors to counters, as opposed to the other way around. Review samples to coordinate the finishes with floors, so the textures are unified.
Accessorize and accent- Chrome, brass knobs, and metallics are a great way to highlight and brighten any kitchen. Accessories and decor are the best way to tie up a visually appealing space. If you're ready to nail down on your choices, contact Dream Kitchen and Bath, and we'll help you transform your kitchen into a luxurious, beautiful space.
To discuss bathroom or kitchen remodeling options that would be best for your home please contact us at (718) 273-6233 or visit our showroom at 711 Port Richmond Ave., Staten Island, NY 10302.