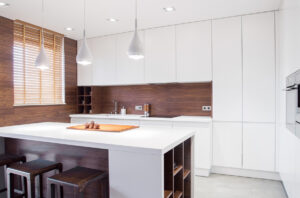 Contrary to popular belief, a small kitchen can be useful in a variety of different ways. Less to clean, and typically more affordable. While there are benefits of a tinier kitchen, there are ways to make your space appear larger.
Similar colors- Keeping the design in the same realm, its best to keep your cabinets the same color as your walls. Lighter and pale colors tend to make your space look brighter and more open.
Keep it neat- A useful tip for smaller kitchens is to keep clutter away from countertops and shelving. If you have a pantry, maximize that space by storing as much as you can in it.
Glass cabinets- Removing cabinet doors and replacing them with glass doors. This will pull the eye to the back of the cabinet frames, making the walls feel as though they are farther away.
Windows- Maximize the amount of light shining into your kitchen with as many windows as possible. Blinds are also a good idea, because they add more depth without blocking the light.
Horizontal stripes- Long, wide stripes have the ability to stretch the space. You can achieve this with broad striped floor tiles or a striped rug.
Mirrors- One of the most common ways to enlarge any space is by adding mirrors. Place them where the reflection holds the most depth, the natural light will reflect off the mirror, making the room look bigger.
Choose from any of these luxurious designs to make your kitchen appear larger at Dream Kitchen & Bath. To discuss bathroom or kitchen remodeling options that would be best for your home please contact us at (718) 273-6233 or visit our showroom at 711 Port Richmond Ave., Staten Island, NY 10302.