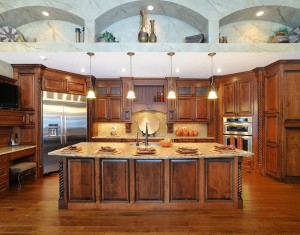 If you're looking to add something special to your kitchen, high-end appliances might be what you're looking for. Wine coolers, beer taps, espresso machines, and even commercial appliances will make your new kitchen more unique, and may add value to your home. These higher-end items may cost more, but customizing your kitchen with these appliances can have many benefits. Installations such as these can also make serving guests and throwing parties easier.
Wine coolers can be a minimally expensive upgrade for your kitchen. It is as simple as putting a mini-fridge in a cabinet, or into an island. However, you may need to fix the wiring of your electricity if it isn't accessible from the location you've chosen. Wine cellar cabinets are refrigerator sized wine racks that keep the bottles cool and out of the light. They cost more than a wine cooler, but can make storing wine very easy. These cabinets can store anywhere from 100-400 bottles.
Beer keg faucets and taps, cost more than a wine cooler, but less than a wine cellar cabinet. Whether you replace a part of your cabinets, or you put in a bar, this option can be perfect for parties and family events. Some hold multiple kegs, for different beers.
Espresso machines can cost as little as $100, and as much as a few thousand. The output from high-end espresso machines is fantastic. If you drink a lot of cappuccinos and espressos, investing in a machine can save you money by making it yourself.
For those who cook a lot, have a large family, or entertain a large amount of guests, moving up to commercial appliances, like refrigerators, stoves, ovens, and dishwashers, can come in handy. Upgrading can cost hundreds extra, but it is very rewarding. It's important to have a large kitchen if you are going to install multiple commercial appliances, because they take a lot more space. Commercial appliances can add to the value of your home.
Dream Kitchen and Bath can install your high end appliances during your kitchen renovation. To discuss kitchen remodeling options that would be best for your home please contact us at (718) 273-6233 or visit our showroom at 711 Port Richmond Ave., Staten Island, NY 10302.