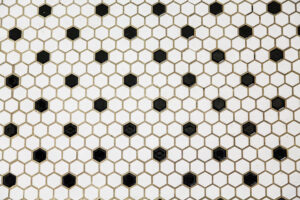 Hexagonal tiles are a classic design often seen in Victorian era home. Whether you decide to use smaller or larger tiles in your bathroom, hex tiles can be used in unique and exciting ways. Hex tiles add unique and trendy style to your bathroom for a timeless design. Classic features don't have to be all the same. Here we will discuss a few different ways to use hex tiles to create stunning bathroom looks.
Black and White
As with subway tiles, you can utilize black and white hex tiles to make visually clean and simple designs that still add depth to the space. This design choice lends itself well to bathroom walls and floors alike. It can also be easy to make visually stunning patterns out of black and white tiles.
Mosaic Designs
Some homeowners are using the unique shape and variety of available colors of hexagonal tiles to create beautiful visuals. You can use hexagonal tiles to transform a bathroom space into a work of art. From stunning floral designs to playful aquatic scenes, using a variety of colored tiles can take your tile work to the next level.
Larger Tiles
While most homeowners use hexagonal tiles in the standard 1-inch size, these tiles often come in larger sizes as well. The use of lager tiles can be a benefit to your bathroom space. With larger tiles, there will be less grout lines. Reducing the amount of grout lines helps reduce the amount of surface area where dirt and grime can build up. Larger tiles allow some patterns to be more distinct and eye-catching, while still lending the unique visual style of the hex-shape.
To discuss bathroom or kitchen remodeling options that would be best for your home please contact us at (718) 273-6233 or visit our showroom at 711 Port Richmond Ave., Staten Island, NY 10302.