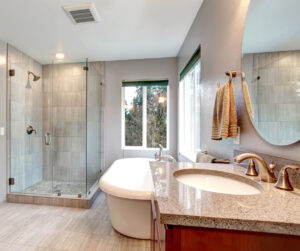 1. Focus on Style and Function – Think about what kind of use you want to make out of your bathroom. Do you want to soak in the tub for a few hours and red a magazine? Or do you shower and run? Plan your renovations around how you use your bathroom and what you would like to get out of it. As for style, bathrooms are quite a personal space. You want it to be a place where you feel comfortable and relaxed. Focus on a style that you'll love.
2. Assessing Costs – Create a budget. Set the areas where you feel comfortable splurging a bit, and the areas where you can find the most cost effective options. Know how much you are willing to spend on your bathroom renovation and know how you want to spend it.
3. Space Planning and Storage – Evaluate the space existing space in your bathroom. Do you have enough space for what you need? Or do you want to create more space with the renovation? Consider different layouts and space saving options if you are looking to change the amount of space provided in your bathroom. Consider installations that will maximize storage.
4. Choosing Materials – Shopping and picking out the right accents will give your new bathroom charm. Consider backslashes, lighting, cabinets, vanities, flooring, fixtures, countertops, and special features that you can picture in your renovated bathroom. All of these details are important factors that will tie the space together when it's completed.
5. Getting it Done – Dream Kitchen and Bath can create the ideal bathroom for you. From planning to installation and renovation, we will be there to help you through the process and get it done the right way. To discuss bathroom or kitchen remodeling options that would be best for your home, please contact us at (718) 273-6233 or visit our showroom at 711 Port Richmond Ave, Staten Island, NY 10302.