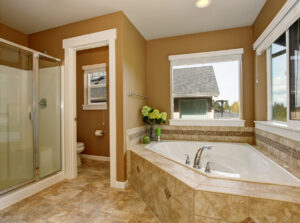 A large bathroom renovation can often be a daunting task for a homeowner. Utilizing the space in a large bathroom may seem difficult, but it allows you to transform a simple room into a wonderful retreat. Knowing what you want in your large bathroom can allow you to create the perfect home spa.
"His and her" vanities are a great way to add function to a large bathroom. Double sinks and added mirrors are great for master bathrooms or for kids.
Larger tubs and showers can utilize the space and provide luxury for a relaxing soak or long shower. When Choosing a tub for a big bathroom, having an inlet tub provides a wrapping for the tub and gives both body and storage space to the bathing area.
Area lighting in a large bathroom is great for both saving energy costs and adding accents to the room. If a large bathroom isn't lit well enough, it ends up looking and feeling like a dark, dank, dungeon.
Plants in your bathroom are a great addition. they provide color and natural beauty. Research which plants are best for your bathroom to last well with the humidity of showering. Bamboo and orchids grow well in the humid climate of the modern bathroom, provided enough natural light.
To discuss bathroom or kitchen remodeling options that would be best for your home please contact us at (718) 273-6233 or visit our showroom at 711 Port Richmond Ave., Staten Island, NY 10302.