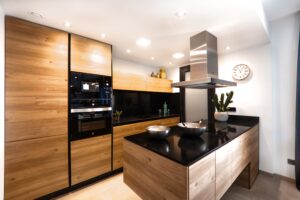 Many kitchen upgrades are done because the homeowner wants to change the design for aesthetic purposes; while others might do it to raise the value of the home. But for some people, especially those planning to stay in their home for the long haul; the kitchen remodel is done with ease of access in mind. Preparing your kitchen to "age in place" is a good idea for homeowners who plan on living there well into their elderly years. An elder-friendly kitchen is created to make your life easier now, as well as when you are much older. Elder-friendly kitchens can help support your independence in your later years, while making your life easier now. Upgrades will focus on safety features, ease of access, and better organization.
Non-Slip Floors
Slip and falls can be a dangerous hazard for elderly people. When choosing flooring, you should choose one that is slip resistant as well as soft for landing. While some tiles can be considered "slip resistant," falling on a tile floor can cause a lot of damage to your body. Safer flooring options can include laminate, bamboo, and vinyl. Avoid using area rugs or floor mats in the kitchen, as they can offer potential tripping hazards.
Reduce Edges
Along with non-slip floors, a kitchen that ages well will have less sharp edges. Countertops should be designed with rounded or bevelled edges; which will help mitic\gate injury during a fall.
Easy Access Cabinets
From reaching up high, to trying to find what you're looking for, cabinets can be a problem for some elderly people. Windowed cabinet doors can allow you to better determine where an item is before you start checking the cabinets. Cabinet organizers, lazy susans, and pull-out drawers can help reduce bending and reaching. D-style pull drawers and lever handles can be a lot easier for elderly people to use.
Lots of Lighting
Light up your kitchen. As you age, your vision can become more impaired. Area lights, lights inside cabinets, and undermount lights can help illuminate important areas of the kitchen to make your life easier.
Leave Space for a Wheelchair
You may never need a wheelchair, but it can be a good idea to prepare for it. Creating a space where you can pull up a wheelchair to work in the kitchen can be a good idea. If you don't use a wheelchair, the space can still be used with a chair. Breakfast nooks can easily double as a seated prep space.
Easy Use Appliances
Appliances for a kitchen meant to age with you should have easy to reach controls and easy to read displays. Drawer style dishwashers can reduce bending and strain. Keep microwaves on the countertop. Wall-mounted ovens can allow for baking without bending.
To discuss bathroom or kitchen remodeling options that would be best for your home please contact us at (718)-273-6233 or visit our showroom at 711 Port Richmond Ave., Staten Island, NY 10302.