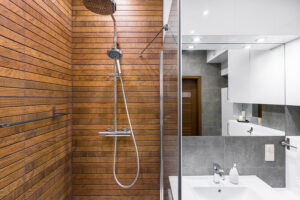 When designing a bathroom for use as a guest bathroom, there are a lot of small upgrades that can make all the difference. Here are a few add-ons to your guest bathroom that you can make to better your guests' stay.
Spa Designs
Spa-style design can go a long way in creating a comforting space for your guests. Bamboo cabinets, natural lighting, and natural stone can help create a zen space.
Decorative Toiletries
You can make it easier for guests to access toiletries by using them as decor. Use decorative baskets or built-in shelves to give them easy access to toilet paper or other necessities without compromising on style.
All-Inclusive Vanities
Vanities in a guest bathroom should have some extra items that a visitor might forget about when staying the night. Having a few extra items, like a magnifying mirror, or some extra beauty products can go a long way in making your guests feel more welcome in your home.
Guest Showers
Showers in a guest bathroom should have some extra safety features. You don't want guests to get hurt. Worse, you don't want to be sued. Add in some handrails, use a curbless shower design, and slip resistant tile to help protect your guest's wellbeing.
Relaxing Scents
Candles, potpourri, or reed diffusers can go a long way in creating a relaxing bathroom space for a guest. It doesn't take much to add more to the room that way.
To discuss bathroom or kitchen remodeling options that would be best for your home please contact us at (718)-273-6233 or visit our showroom at 711 Port Richmond Ave., Staten Island, NY 10302.