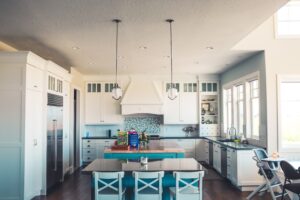 Blue color often evokes peace and calm; and a bit of blue in a kitchen can be very visually appealing for this reason. While earthy tones and grey tones have long reigned in the modern kitchen, other colors have been popping up more and more. This especially true for blue.
Pairing blue in a kitchen allows you to create a two-tone space that brings out the best in both colors. Lighter blues tend to pair very well with whites and beige tones. Navy blue hues mix well with greys and rich browns. Lighter blues brighten up the room and make it feel more spacious. Darker blues can add drama and elegance to the room.
Blue can be added to a room in another of places. In cabinets and appliances, blue hues can enhance the room in a soothing way. Blue backsplashes add tasteful color without being too overbearing. Subway tile is becoming a thing of the past. Consider a mosaic design or a colorful tile layout for your backsplash. Even faucets and other small accent pieces in a kitchen can benefit from a bit of a color splash.
To discuss bathroom or kitchen remodeling options that would be best for your home please contact us at (718) 273-6233 or visit our showroom at 711 Port Richmond Ave., Staten Island, NY 10302.