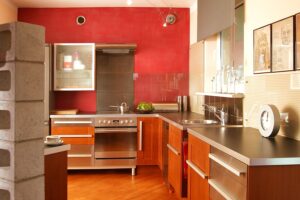 In large kitchens, commercial cooking appliances can offer a lot of help. If you have the space, upgrading to professional kitchen gear can make preparing large meals or storing lots of food a breeze. There are pros and cons to increasing the size of your appliances, so be sure to consider all of the aspects carefully.
In homes that see a lot of family gatherings, or just have a large number of people living within, commercial appliances could be a huge benefit. The extra-large stovetop or refrigerator can see a lot of use throughout it's years of service. Having cold storage or a lot of cook space can be a life saver if you host parties often. However, commercial level appliances can take up a lot of power, and can take a toll on the electric or gas bill. Some commercial ranges come with all sorts of cookspace, such as extra burners, a built-in griddle, 2 ovens, larger warming trays, and more powerful fans. This gives you more variety for how to cook, as well as giving you the space to cook multiple meals or dishes simultaneously. To deal with the massive heat coming off of a commercial range, an exhaust hood may be needed. This will take up more space in the kitchen, and building the proper ventilation can lead to extra costs. While commercial appliances are bigger than standard models, this can actually increase your counter space. While they take away counter width, the bigger appliance can add length. The longer counters with less width can add depth to the kitchen, especially with an earthy backdrop against the wall.
To discuss kitchen remodeling options that would be best for your home please contact us at (718) 273-6233 or visit our showroom at 711 Port Richmond Ave., Staten Island, NY 10302.